6 min read
Managed Print Agreements: What Your Business Needs to Know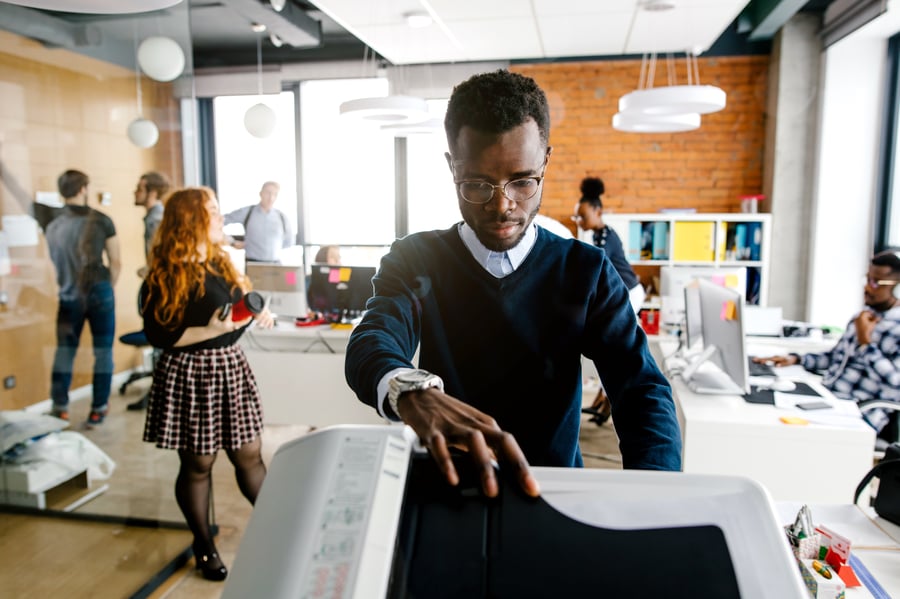 Today, many businesses are streamlining their administrative processes by utilizing managed services in every part of the organization. From IT and software to business operations and equipment management, managed services help cut costs, increase efficiency, and improve the customer experience. And that's true for managed print services (MPS) too.

Learn the benefits of using print services agreements and the challenges of finding one that works for your business so you can find the vendor you need and improve your current print practices with confidence.
What is managed print?
Managed print is a commercial print service that external providers offer, allowing businesses to outsource print equipment maintenance, inventory and supplies management, and user support.
MPS providers allow businesses to save time and money by improving the efficiency of business processes, optimizing printer and copier equipment usage and costs, and handling equipment issues like part replacements. To take advantage of all these services, businesses need to authorize a managed print agreement with their print service provider.
What is a managed print agreement?
When your business works with a MPS provider, a managed print agreement (a type of service-level agreement) will outline what services your agreement covers, the associated costs, and the responsibilities of each party.
Managed print services generally start with a business needs assessment and can also include:
Hardware replacements
Equipment repair services
Automatic supply renewal (e.g., toner cartridges, paper)
Print volume, document output, and usage reports
Cost monitoring and control
Support desk services
Printing equipment repairs and replacement
Performance review and optimization
Some of these services will require communication and cooperation between your staff and those on the MPS provider team. Your managed print services agreement would outline what is your staff's responsibility
For example, if your agreement includes preventative maintenance services, then the maintenance agreement section of the contract would detail who is responsible for what.
Depending on the provider, you could be entitled to regular equipment assessments but someone on your staff would be responsible for reaching out and scheduling those appointments instead of the other way around. Understanding those details before executing a managed print agreement is essential to get the most value out of such services.
Benefits of a Managed Print Agreement
Managed print services offer many business benefits, and creating a thorough managed print agreement is key to ensuring your company is getting the benefits that matter most. Not all print providers offer the same quality, reliability, and breadth of services.
Finding out whether the vendors you're evaluating offer the services you need is essential. Managed print agreements ensure that each party is getting what they need out of the contract — efficiency, convenience, and cost savings for you and your business and a satisfied customer for your services provider.
Once you've laid out your managed print needs, you can work with vendors to develop a services plan that solves your ongoing needs. For example, If your current print environment has become unmanageable and expensive to maintain, you would want the agreement to detail all the services you need.
To bring down long-term print costs, your provider could evaluate your current print practices, monitor print and copier equipment usage, and replace aging equipment with multifunctional devices that save you costly repairs and part replacements.
What are the challenges of managed print agreements?
While managed print service agreements can help you understand your vendor's service portfolio and capabilities, they can also be tricky to get right. Making sure you understand all the stipulations and clauses in the agreement is essential.
You don't want your staff to be surprised to find that equipment repairs or parts replacements aren't covered in your service contract only after something has gone wrong. Ideally, a print services engagement and contract should help make your life easier, be adaptable to changing business needs over time, and make all the terms clear to both parties.
Making sure you're working with a reliable, trusted vendor is key, no matter what terms are in your managed print agreement. That's why you need to know what to look for when setting up this contract and evaluating potential vendors.
What goes into a managed print agreement contract?
A managed print agreement contract should include:
All the services the vendor can provide.
Which services are covered under the current agreement for the customer.
The associated costs of adding additional services to the existing agreement.
The time to service delivery for each included service. (For example, saying that the vendor will order parts replacements for equipment within a certain number of business days.)
How the customer engages the vendor for services (e.g., by contacting a support line, scheduling service by email, online client portal).
How often certain service deliverables are provided, such as usage reports, cost control services, or print security assessments.
What services will be handled automatically (e.g., software updates, inventory management, and supply orders) and which need to be requested (e.g., on-site equipment repairs, replacements, or assessments).
The length of the agreement and the terms of renewal.
And if you need help understanding your MPS needs, explore a free managed print services assessment from Standley Systems to learn more.
When are managed print agreements negotiated?
Managed print agreements can be negotiated at any time, as long as both parties are willing. If you have an existing contract with a MPS provider, you can update the terms before (with the vendor's permission) or after the terms of that agreement end.
Some companies renegotiate contract terms on a regular schedule, such as quarterly, every six months, or once a year. What you choose will depend on how you pay for your services contract, the vendor you're working with, and whether your business needs change.
When are MPS agreements invoiced?
MPS agreements can be invoiced biweekly, monthly, or quarterly depending on the terms of the contract. Different vendors will have their own preferences, and of course, the invoicing schedule is something that can be negotiated before you sign the agreement.
Who decides on a managed print agreement??
When negotiating the terms of your managed print agreement, you will want to involve key stakeholders in your company's leadership team. For example, if you are contracting managed print security services, you may want to involve your IT leadership so that they can have input on the type and frequency of security-related services in the contract.
From the vendor's side of the negotiation, they may need to involve senior leadership to authorize certain terms, such as different invoice scheduling, discounted printing, or customized service packages.
What affects the cost of managed print services?
Managed print costs will depend on the types of services you need, the size of your print fleet, how often you need maintenance and repair, and whether you need additional services included, like document management, print security, and usage reporting.

The greater the scale, complexity, and frequency of the services your business needs, the more the more fees you are likely to incur. But that also means your MPS provider will be bringing you bigger cost savings, convenience, and efficiency improvements.
Do I want a local managed print vendor or a nationwide vendor?
Often, working with a local managed print vendor has huge advantages. As long as you choose a service provider with the right security protocols, industry experience, and reputation, local vendors can often provide faster equipment service and a better customer experience.
How to evaluate a managed print vendor?
Evaluating a managed print vendor can be difficult, especially if you're not sure what to ask. Going into that process, make sure you have questions for different vendors that will let you know if they have the right services and whether they are willing to customize a service agreement based on your business needs.
What questions should I ask a managed print vendor?
Depending on what services you need, make sure to ask a managed print vendor:
What experience do you have with fleet management?
How do you handle print security for my industry?
What document management services do you offer?
What maintenance and repair services do you include in your managed print agreements?
How do you bill existing customers for additional services?
How can you customize a managed print agreement for my business?
Standley Systems can fulfill all your managed print needs
The Standley Systems team is ready to answer all your questions about managed print. We've been providing managed print services to satisfied customers everywhere we work, and we want to help streamline your organization's print experience, management, and security. Let's get started – contact us today to learn more.