4 min read
Confidential Printing Services Secures Print Jobs. Here's How.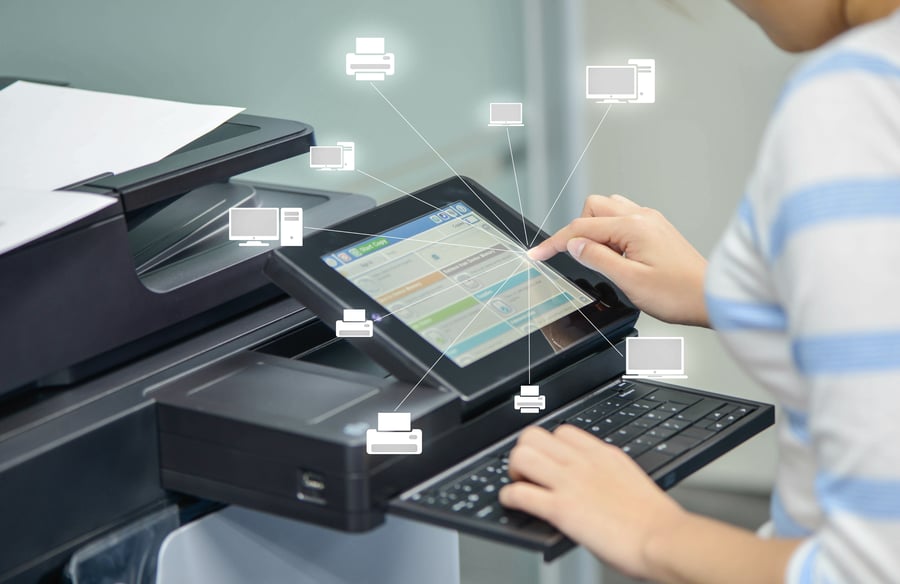 Much attention is paid to document security and protecting hard drives and cloud storage from hacking. But what about office printers? Printed documents can be vulnerable to falling into the wrong hands, and secure printing can be compromised by software security that's out of date or by printers' access and vulnerability to open public networks.
Confidential printing services are a solution to such vulnerabilities. Secure printing ensures that printed materials are collected by the correct user. Industries handling sensitive and confidential information can all benefit from confidential printing services. Here's how.
What are confidential printing services?
Confidential printing includes a service or feature that lets users send print jobs to printers, however the printer waits until the user reaches the printer before actually printing.
By not printing materials as soon as users click "print," confidential printing methods ensure that confidential documents and other sensitive information do not get picked up by anyone but the intended user.
Why use secure printing solutions?
Printers with secure printing software and capabilities enable printing securely and even add convenience. For example:
Confidential documents won't get picked up by the wrong person. In addition to sensitive information, memos, emails, and other material might not be for public viewing.
Special paper is needed for some print jobs. Don't make the whole office wait while you load special printing paper.
Print settings vary. Once again, not everyone should have to wait or use your print settings for special print jobs.
Reduce waste and save money on paper and print materials. Confidential printing prints only intentional print jobs and eliminates the waste and hassle of double printing.
Secure Printing Software
In addition to printed documents being read or picked up by the wrong person, office printers and the whole print environment are vulnerable to cyberthreats. Malicious code can make its way onto printers and be used to access sensitive information.
Just how vulnerable is print technology? Cybersecurity experts at the Cybernews online news organization hacked into 28,000 unsecured printers worldwide only in order to demonstrate printers' vulnerabilities.
Secure printing software can help to automatically clear sensitive information from printers' memory and add levels of security by enhancing antivirus protection and similar programs that can prevent hacking or leaked information.
Standley Systems can also conduct a managed print assessment to help you improve your secure printing solutions.
What are the components of a great confidential printing plan?
For so many companies, this two-step printing method greatly enhances document security and keeps information secure. It can also even add convenience when multiple users share one printer.
While there are multiple methods to achieve document security, pull printing and secure printing are two great ways. They're similar but different methods, explained below.
Pull Printing
Pull printing involves a two-step process whereby the user initiates a print job from a computer or mobile device and sends it to a universal print driver.
To complete printing, the user must then "pull" the print job toward any printer on the network. When the user reaches a printer, users authenticate the printing request to print the document.
Secure Printing
Secure printing uses similar print technology to pull printing, but users send print jobs to specific printers instead of having universal selection.
When ready to print, users can release a print job from a web-based app or by physically walking over to a printer and using a badge reader or entering PIN to release and print a job.
What could go wrong if I don't use secure print services?
Not enabling confidential printing services opens companies up to hard copy printed materials falling into the wrong hands, accidentally or intentionally, along with exploitable security vulnerabilities. Vulnerabilities include:
Unauthorized access to printed information. Someone walks over to the printer and takes documents that aren't theirs.
Unauthorized configuration. Someone alters the printer configuration to reroute the print jobs
Print data breach. This includes accessing data from the printer's memory and hard drives, which potentially store sensitive information
Print job manipulation. Manipulation includes replacing the print content for others' print jobs and deleting stored content to manipulate printing history
Network breach. Printers connect to computers and drives, making them vulnerable access points for hackers
Confidential Printing Services for Specific Industries
So many industries handle confidential documents and should be heeding advice and making effort to improve print security. For example, the healthcare, legal, and education industries all have great need for secure printing.
Healthcare
Workers and companies must work with HIPPA regulations to protect patient information, along with handling medical records, insurance information, and other sensitive printed materials. While the healthcare industry increasingly relies on Electronic Health Records, printed medical records and fax machines are ubiquitous among healthcare providers, making document security crucial.
Legal

Legal professionals must conform to laws and regulations for handling sensitive medical records, financial documents, criminal records, case proceedings, and other information requiring secure printing. Handling personal information puts firms at risk of data breaches, necessitating compliance with federal, state, and local data privacy legislation. Managed print helps keep information safe by controlling print authorization for sensitive information.
Education
Public, private, vocational, and other types of schools all follow FERPA requirements to protect students' information. Therefore. secure printing matters greatly to educational institutions. Confidential printing services can also use a card reader release or similar system to make sure students and other unauthorized users can't access certain printers.
Banking
The financial sector is subject to a great deal of federal regulation by the FDIC, FRB, and other agencies. Banks are required to protect financial privacy for their clients, and are held to high standards of security across the board. Because of this, secure printing is an essential tool for maintaining the confidentiality of financial documents and restricting access to authorized individuals.
Standley Knows Your Industry and Secure Printing Needs
Printing environments can be go-to sources for data breaches and compromised sensitive information. Across industries, office printers handle plenty of print jobs containing sensitive information and private data. Why not secure your confidential documents and print technology with confidential printing services?
Standley Systems can help you get started. Whether you need to evaluate your print services and security or are ready to implement confidential print services, contact our experts to learn more and get started.