8 min read
How To Choose The Best Managed IT Service Provider For Your Company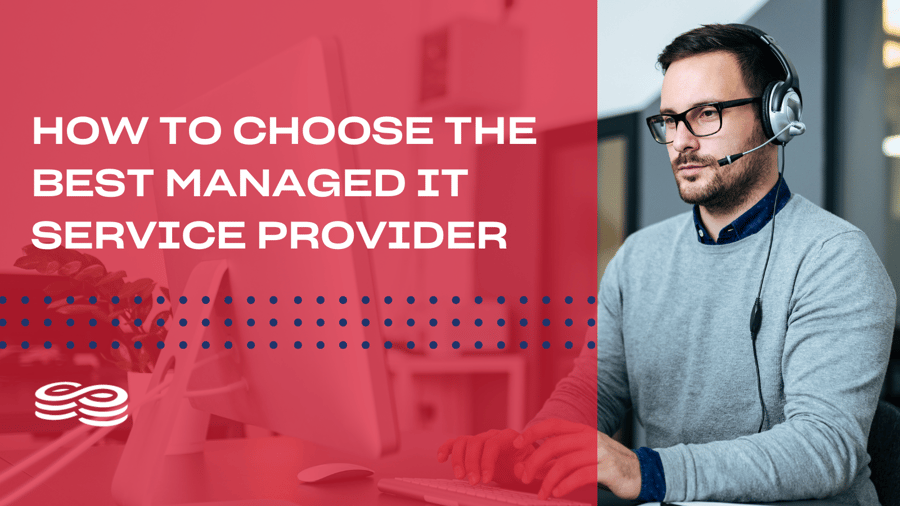 Managed Information Technology (IT) services give you the opportunity to outsource IT operations to a managed services provider (MSP). Cutting expenses, improving day-to-day operations through increased productivity, and the ability to focus on your core business objectives are some of the benefits of offloading IT services to a specialist provider.
The market for managed IT services is growing. Valued at $23.3 billion by Mordor Intelligence in 2020, the market is projected to reach $43.94 billion by 2026 at a compound annual growth rate of 11% over the forecast period. That means more businesses are leveraging managed IT for its competitive advantages, and that can increase overall competition across entire industries.
Are you ready for managed IT services?
Technology is always in a state of evolution. Every facet of technology is continuously evolving - from software to hardware to network infrastructure. For many businesses, keeping up with the accelerated rate of innovation can be a continuous challenge.
Managed IT services give you the freedom to truly leverage the innovative changes taking place. Instead of struggling to keep up with tedious troubleshooting and maintenance issues, managed IT allows you to experience technological advantages without the hassles of having your own IT department.
Managed IT Services Offers World-Class Expertise

Managed IT service providers do one thing, and they do it well. Their high level of expertise and specialization means increased efficiency in designing, maintaining, and troubleshooting IT systems for companies across a range of different industries.
MSPs deliver services that allow small companies to leverage the benefits of a large IT department without the infrastructure costs. MSPs have constant exposure to a similar range of issues across different organization sizes and types. And that means better service for your business through increased response times, quick identification of problems, and rapid resolution of issues with minimal downtime.
Managed IT Services Offer Unbeatable Security
Companies that prioritize data safety must be able to keep up with the latest cybercriminal techniques. As the black market for data continues to grow, hackers are incentivized to expand their arsenal of tools that enable them to identify and break into vulnerable networks.
Cybercrime is not confined to large companies. Businesses of all sizes are constantly exposed to safety threats at all points on their network, from email to WiFi. Staying up to date with threats can be a resource-intensive job, and most small and medium-sized businesses do not have the resources or expertise to stay on top and keep the network secure.
Managed IT service providers offer security solutions that keep your network and all the data it contains safe from hacking, data breaches, and cyber attacks. By hiring a managed service provider, your company can benefit from top-level security and network monitoring for much less than it would cost to run it internally.
Managed IT Services Let You Focus On Your Business
Business competition is increasing, and that means companies need to focus on their core business objectives in order to succeed. Dealing with technological issues, troubleshooting, and maintenance can cut into your time, reduce productivity and cause frustration.
Resources can be scarce for small and medium-sized businesses - and most don't have the luxury of access to technological innovation on the same level as larger companies. Managed IT service providers are leveling the playing field, allowing businesses like yours to access first-in-class technology so you can focus resources towards key business objectives that increase success.

What services do managed IT service providers offer?
MSPs provide a range of services that include:
Software: administration and maintenance
Authentication: document management and identity verification
Computer system administration
Data backup and recovery
Data storage and management
Cloud computing services and online document storage
Network monitoring and management
MSPs deliver services through ongoing continued support on-site or via their own or third-party data centers. Services provided by MSPs can be native, third-party, or a combination of both. Some are "pure-play", offering one type of technology or services by one vendor, while others diversify their offerings to include multiple technologies from various vendors.
MSP services should also include:
Expert consultation
Ongoing risk assessments
Support/customer service desk available to company staff
Onsite technical support ("break fix" or more)
Remote technical support
24/7x365 network infrastructure monitoring
24/7x365 response for server/network security emergencies
7 Signs You Need Managed IT Services
Still not sure about making the switch? Here are seven signs that your IT strategy could use the services of a professional MSP:
1. Your company does not have an IT department or designated IT person
The internet has changed how businesses work both internally and externally. Most small businesses may have a tech-savvy employee they rely on, however that person may not be completely aware of the benefits of the latest innovations in technology.
2. You have limited IT resources
You can maintain or even reduce your IT budget through managed IT services, which will allow your employees to focus on projects that grow your business and boost profits. Managed IT services give you access to leading technology without requiring significant infrastructure investment, allowing your employees to focus on their assignments instead of IT issues.
3. You have an IT person, and they are constantly troubleshooting and performing maintenance
Hardware, software and the internet are becoming increasingly interconnected, and that can be more work than one person can handle. If your IT person is constantly troubleshooting issues and keeping up with maintenance, it may be a sign that you need to engage the services of a managed IT services company. That way, you can direct IT resources towards objectives that help your business grow.
4. IT employees don't have the time to focus on proactive solutions
The most efficient way to avoid IT problems is to focus on proactive solutions before issues occur. If IT employees are constantly solving problems without having time to make improvements, it's probably time to hire a managed IT provider. Besides anticipating important software and hardware upgrades, a specialist also has experience across different types of companies, giving them insight into the common types of problems that occur and the fastest way to solve them.

5. You don't have a software tracking system and have lost track of licenses
Keeping track of software becomes a challenge as your business grows. That's why Software as a Service (SaaS) is becoming a popular option for many companies.
Instead of buying licenses and installing applications locally, SaaS services let you access the software online and use cloud services to store documents. Automatic updates make it easy to maintain, and online help desks and chat functions give employees the support they need.
6. You do not have a comprehensive security plan
With so many applications moving online, expertly managed security should become a top priority for businesses of all sizes. Preventing security breaches, addressing threats, and implementing a backup and disaster recovery plan must be part of a security strategy that protects sensitive client and company data. Failure to do so can result in disastrous financial consequences, lost clients, and a permanently damaged reputation.
7. Regulation compliance is a growing concern
As rules around data protection and storage continue to increase, growing companies need to ensure they comply with the latest regulations in order to avoid any fines or legal repercussions. A managed IT service provider can help you stay compliant with a document management system that adequately stores and disposes of data according to the regulations of your industry.
How To Evaluate a Managed Services Provider
Choosing an MSP is not something you do often. An MSP is more than just a vendor. It's a technology partner that takes on a substantial part of your operations so your business can grow. Here are some essential factors to consider when making that decision:
24/7 Availability
Your network is working for you, 24 hours a day, seven days a week. That's why you need to choose a managed services provider that is always available.
Quick Response Times
Ensure your service provider has a guaranteed response time and can provide service quickly in the event of an emergency. Ensure the service provider answers phone calls instead of using an out-of-state call center that routes your calls through various departments before arriving at a solution.
Backup and Disaster Recovery
Inquire about any security measures taken by your provider. Ensure your data is protected over the long term by working with a provider that frequently backs up your data and is prepared for natural disasters or other unforeseen events. With a good plan in place, your MSP can ensure your data is always protected so you can bounce back quickly from any type of disruption.
On-Site and Remote Monitoring, Security and Maintenance
Ensure your services provider can monitor and maintain your network both onsite and remotely. A good MSP is also well-equipped to protect your network and has the infrastructure in place to identify and neutralize threats before they turn into serious problems.
Third-party Vendors
Most comprehensive IT solutions require the use of multiple technology services. Your MSP can handle numerous technology vendors for you, and that can save time spent tracking them down for service issues.
Managed IT Services Bring Value To Your Business
Outsourcing some of your IT operations to a managed IT service provider can help you save money, improve efficiency and increase productivity. Managed IT services can give you a significant competitive advantage by freeing up resources so you can focus on business objectives that boost profitability.
From cloud services to software to network management and security, the experts at Standley Systems can help your business make the digital transformation needed to stay competitive in the digital age. Our enterprise-level solutions can help boost productivity while improving operations so employees can focus on business objectives that increase profits.