7 min read
Why Companies Stand to Benefit from Managed Print Services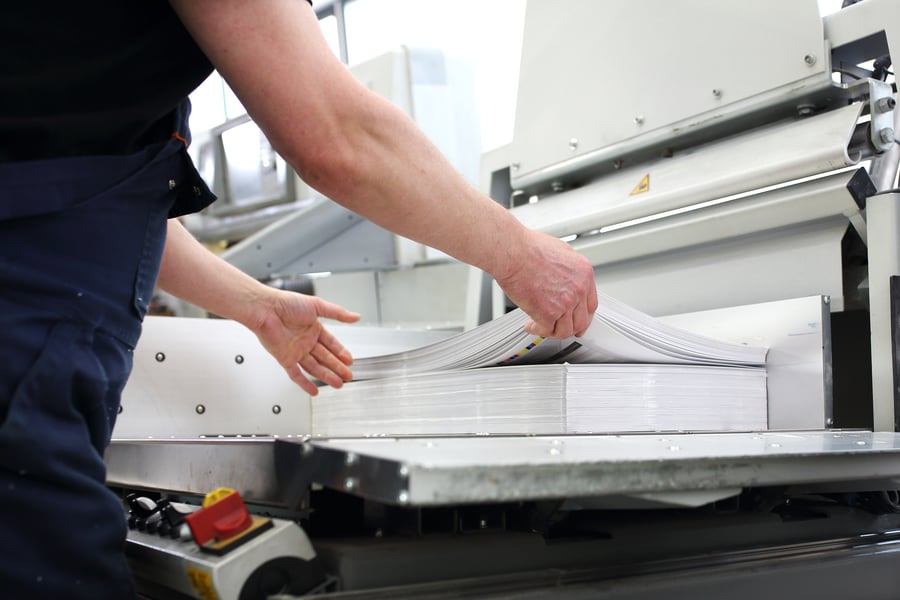 You may have heard of managed print services and may be wondering about the benefits it provides. For some companies, using managed print services (MPS) is hugely beneficial, allowing employees to operate more efficiently and increasing a company's extent of services.
But before revamping your print infrastructure and changing business goals to include MPS, learn more about the benefits and uses of managed print services. MPS can enhance any company's sustainability goals, printing security, and even services offered. Could adopting managed print services improve productivity and benefit your company? Find out more about this type of service.
A Brief Intro to MPS and Print Management
The basic idea behind managed print is that your company uses a variety of printers, computers, and network functions operating both independently and together at various times. But when printers go down, service, communication, and record keeping are interrupted.
Managed print services take a proactive approach to printing, streamlining printing times, service upgrades, supplies needed to operate, and sustainability goals by reducing waste. By taking a systematic approach to print infrastructure, managed print services increase printing efficiency, productivity, reliability, and security
The benefits to MPS may be apparent, but Standley Systems can also help you determine if and how your company's printing needs and print environment can benefit from MPS. After contacting Standley, our experts can conduct a complimentary managed print assessment.
Why Adopt Managed Print Services?
Adopting MPS will have pros and cons. But what's the business case for implementing a new system and bringing large-scale change to print activity? MPS transforms printing by putting the focus on such a critical business process.
While it can be easy to brush aside lost time and resources needed to operate printers individually, systematizing print devices and print output ultimately helps you achieve the business goals of increased efficiency, better sustainability, and reduced costs.
Is My Company Too Big or Too Small for MPS?
In short, no. Large companies with many print devices and a high volume of print activity have much to gain from MPS. Implementation may take longer at larger companies, but the services offered and benefits of MPS can be even greater.
For smaller companies, MPS:
Reduces print costs and automates restocking of supplies
Improves productivity by helping employees print things right the first time
Can enable mobile printing so that employees can print and operate remotely
Benefits include:
Improved efficiency, security, and sustainability are all benefits of MPS. But it's worth understanding how services offered can truly enhance business goals.
So, what are the advantages of MPS? Print management benefits include:
Cutting down on costs and unnecessary printing and using more cost-efficient consumables
Insight and suggestions for improving efficiency
Keeping your data safe, boasting a wide range of advanced security options that keep info protected both online and off
Responsive needs and simplified flexibility when expanding or altering printing jobs
Optimizing printer placement and product need to ensure printers are placed and used strategically
Data analysis to assess workflow optimization and indicate use volume
While each benefit could be covered in more detail, here's a closer look at several benefits.
The Right Tools for Print Management
Having the right tools may seem obvious — you'll need a printer fleet to carry out lots of printing jobs. Or...will you?

Having the right tools isn't always about the amount of print devices at your disposal. Rather, insight and suggestions into efficient use and which settings could be upgraded to improve efficiency help you use tools that you already have.
For example, a high-volume, high-speed printer might be placed within an office or department with a low print volume. Moving that printer to a department with higher printing needs improves efficiency.
Better Printing Security
Any system that transmits information and data is open to security threats, and that includes printers. Print infrastructure can be open to cyberthreats as well as people taking sensitive hard copy documents.

Managed print services can help to prevent risks from either scenario by:
Including a sign-in feature as part of standard MPS services offered
Installing automatic hard drive-wiping and memory-clearing features in print equipment
Using print management software that controls and monitors access to print devices to detect and prevent unauthorized use
MPS Reduces Print Costs
Printing costs include more than just paper and ink. Having the correct number of machines and type of printers and placing them strategically all save costs. Scattering machines all around without thinking about their best use ends up wasting space, electricity, and, potentially, employees' time.
By looking at print activity data, print output, and other measurements, MPS can reduce paper use and save costs on paper. Wasted paper or ordering more paper than is necessary only wastes money and hurts sustainability goals. Further, managed print services can help ensure employees know how to use print equipment correctly, reducing employee time spent struggling with printing features.
Improved Printer Fleet Maintenance
Any office worker knows that for printers, maintenance matters. The benefits of MPS include proactive maintenance in order to prevent downtime and delays. With MPS, maintenance becomes a fixture of services offered, as opposed to a response or action taken only after something goes wrong.
If a printer goes down, employees find out before pressing print and having to face delays
Before paper, toner, ink, and other supplies run out, restocking can be automated, preventing down time
Maintenance alerts can automatically filter to the right teams, allowing for proactive, instead of reactive, maintenance
MPS Service Promotes Growth and Flexibility
Well-operating print infrastructure can only increase any company's efficiency and business goals. So when printing demand changes and print activity increases, companies need to be ready for increased volume. As companies grow, even digital companies and tech firms that may rely more on software and digital devices will find that their printing volume only increases with growth.
Managed print services can better respond to a company's needs. A print environment that can change tactics and offer flexibility to grow and adapt is key to overall business growth.

As companies grow and set new business goals, employee efficiency matters even more — don't let them get hung up on basic printing needs.
What Problems Does Managed Print Services Solve?
Problem-solving tools may be a hidden benefit of print equipment. Rather than causing paper jams and delays, print devices coupled with MPS can actually solve problems. Here are just a few.
Security Risks
Imagine an employee printing a secure document and then being interrupted by a phone call or urgent question. Now the confidential document sits in the printer tray and can be seen or picked up by the wrong person. Managed print can use security features like a badge-swipe or quick login at a printer so that printing happens after a designated employee reaches the printer.
Wasteful Practices

Inefficient consumables choices, like knowing which toner to buy and incorrect disposal of cartridges, put undue stress on a budget and on the environment. So does wasted paper. MPS can make sure offices have correct parts and supplies to reduce waste.
Inefficiency
Employees waste time fighting with printers, waiting for print jobs to relay, and hunting for extra paper, toner, and other parts and supplies. MPS improves productivity by combating these issues before they become issues.
How Does a Managed Print Services Agreement Work?
A MPS contract can vary between providers, but it's key to focus on what your company needs as opposed to the exact services a provider offers. Look to make sure that these three areas below are covered and discussed in a print management agreement.
Assessment: An assessment of your organization's current print environment to provide recommendations for optimal device management.
Optimization: Consolidating and rationalizing print devices and related business processes in order to develop a complete MPS strategy.
Management: Regular business reviews, service level agreement (SLA) monitoring, and remote management to govern the ongoing process and workflow improvements
How Should I Pick a MPS Provider and What Should I Ask?
When it comes time to choose a MPS provider, be sure to cover and ask about an initial assessment, service expectations, and plans for future monitoring and growth. Key questions include:
How will you assess my current print activity? This question is essential for laying the groundwork and figuring out what needs to be improved.
Which services are included in your contract? Managed Print Services should do more than just manage initial concerns and restructuring. Ongoing maintenance and monitoring are helpful.
Does this plan permit growth and flexibility? Business goals include growth, so make sure your MPS has a plan for growth and changing print output and ability.
Will my documents and data be secure? Even with diligent employees, print providers can bolster security and safety using software and changed printing practices for monitoring data and hard copy printouts.
How will your print management software integrate with existing print equipment? Adopting MPS can mean an equipment overhaul, but it doesn't always mean changing out your whole printer fleet. Make sure there's a clear plan and capability to integrate new and old systems.
While these aren't all the questions that you'll have for a managed print provider, select a service provider who has a solid grasp on your company's needs and a plan for solving problems and addressing future needs.
Looking for a Managed Print Services Provider? Standley Systems Can Help
Standley Systems has helped Oklahoma companies streamline their printing practices and capabilities by offering managed print services. All of the benefits of MPS can be obtained by working with Standley to see how your company's printing can be transformed to better meet your needs and development.
Further, if you're still considering adopting MPS for your business, our experts can consult with you to see if it's the best strategic move and go over benefits that such service could provide. Feel free to contact the team at Standley today to learn more about our services and how we can help with your technology solutions and decisions.
---