Managed IT services that you can
rely on as your business grows.
Maybe you run a small business without a dedicated IT department. Or you might manage
a midsize corporation whose IT staff has more work than they can handle alone. In either case,
scaling up your IT capabilities in-house can be cost-prohibitive, slowing down your growth and
holding you back competitively.

For many midsize and small businesses, managed services is a solution that can free up time
and energy to operate better, faster, and more cost-effectively by outsourcing certain aspects
or IT functions to a trusted managed service provider, Like Standley Systems.

Learn how our team can support yours with trusted technical services that can allow you
to innovate and scale your business operations.
Our experienced professionals deliver managed IT services that scale and support your business
Learn how we can deliver remote monitoring, virtual and on-site IT support, Office 365 app management, and cloud solution services to support your goals and drive growth for your business.
After assessing your business model, technologies, and processes, we can recommend a unique combination of managed services that suit your needs. Our services help you effectively incorporate applications and IT environments into your long-term strategy as you adapt to changing markets and customer demands over time.

Remote Monitoring
As part of our cybersecurity services, we provide remote monitoring services that track your system's vulnerabilities. Businesses of all sizes are constantly facing new cybersecurity threats. Our remote monitoring gives you the peace of mind and time to focus on growing your business.

Virtual Support
Our virtual support allows your business to provide prompt assistance to your staff or your customers, depending on the needs of your business. The virtual support we provide allows large IT departments to save time and energy and focus on high-value projects, enabling smaller businesses to incorporate technology capabilities they may not have the staff to support.

On-site Support
In addition to our help desk services, Standley Systems also offers on-site support when in-person assistance is needed. Whether your hardware or equipment needs to be updated, fixed, or replaced, our team of field service technicians responds quickly to address the issue and avoid unnecessary downtime for your teams.

Office 365 App Management
Many of the businesses we support rely on Microsoft Office 365 applications for their communication and productivity needs. Whether you need apps for email, remote collaboration, or team and customer communications, we can curate and manage your Office 365 subscription. That includes provisioning account access for new users and managing your app licenses so that you know which apps your business needs and can trust that they'll run smoothly.

Cloud Solutions
Whether your company uses public, private, or hybrid cloud infrastructure, you need to have a centralized management strategy to avoid unnecessary security risks and downtime. Let our team help develop a holistic cloud management approach, providing a streamlined experience for your staff and customers that enhances your business.

Help Desk Button
After decades of serving Oklahoma's businesses, Standley Systems understands how to develop strategies that adapt and scale with market changes.

As a managed IT services provider, we excel in helping businesses like yours develop technology strategies that help you become and stay competitive. In the last few decades, virtually every company has had to develop a technology strategy to stay competitive, and that's an area where Standley Systems has plenty of experience and expertise.

We help companies across a variety of industries to adapt their IT systems, applications, and technology solutions to bridge the gap between where their businesses are today and where they need to be tomorrow.

See how we tailor our managed IT services to unique needs that businesses in these industries face today.
Our managed IT services match your needs with remote monitoring, virtual and on-site support, communication app management, and cloud solutions!
At Standley Systems, we understand that each business has unique needs, which is why we tailor our services and pricing to you. To provide managed IT services that support your business and its growth, we start every customer relationship with a thorough assessment of your IT infrastructure and needs.
Contact us today and we'll set up a consultation and IT system assessment to provide the best combination of monitoring, support, communication, and cloud solutions for your business and budget.
CONTACT US
We deliver strategic managed IT services for organizations across Oklahoma and the United States
Companies and organizations like the College of the Muscogee Nation have trusted Standley Systems to support and transform their IT infrastructure and processes.
Our record with past and current customers shows we know how to deliver IT services and support that make a difference in midsize and small organizations' performance.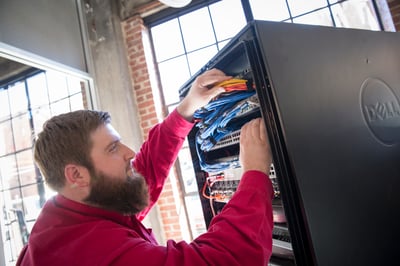 Learn more about how we deliver strategic IT services and solutions for businesses across a variety of industries
Contact us today to see how our managed IT services can support and scale your business
Standley Systems delivers managed IT services that meet your business where it is today and brings you where you want to be tomorrow. To see how we can support your business's growth, fill out this form with your name, contact details, and a description of your business's IT management needs or any questions you have about our services.
We'll contact you to explain how we'll approach developing a customized IT management and support package built for your business's needs and goals.
Current customers can reach our team through the client account or remote support portals.