Standley systems can help
How Standley Systems helps businesses manage contract vehicles
Fulfilling the State of Oklahoma's document lifecycle management needs through NASPO SW1020HPI can be a great opportunity for your organization or agency. Oklahoma uses contract vehicles to streamline how agencies procure and manage purchases from vendors. Let Standley Systems help your state agency or municipality leverage technology to maximize efficiency while minimizing cost.
Learn how managed services and IT solutions from Standley Systems can help you use IT solutions and technologies to maintain your reputation as a trusted vendor that provides professional services and quality goods for the public sector.
What is a contract vehicle and why do they matter to you?
When state agencies start looking for external vendors to provide specific goods or services, they solicit proposals from a wide range of potential vendors. Contract vehicles–a way to group and streamline how state contracts are evaluated and awarded–allow the state to save time and money.
Wondering if your organization is able to utilize the state contract? Are you a state agency, municipality, public school district or university? If so, you can leverage the state contract.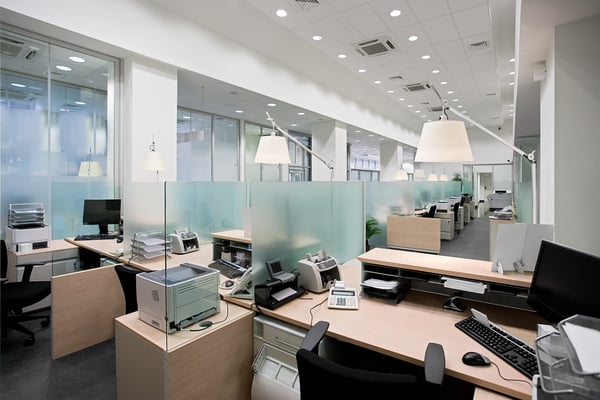 State Contract SW1013S and NASPO SW1020HPI allows Standley Systems to assist your organization in these areas:
Copiers & Printers
Document Management Solutions
Managed Services
Scanning Solutions
Our team has over two decades of experience partnering with organizations across the state. Let Standley Systems help develop the technology solution that fits you. Whether you need help capturing, processing and routing your documents or need to be able to quickly retrieve those documents. We can help.
Why does your IT infrastructure matter for contract vehicles?
The IT infrastructure, solutions, and technologies you use for your business may be the determining factor for your proposal being chosen via a contract vehicle during the procurement process. Businesses that compete to provide federal agencies with goods and services need every advantage to be awarded a contract.
Before your business can become an approved federal contractor, your business needs to meet specific cyber and information security standards. Whether your business is managing or delivering software solutions, or just providing consulting services or manufactured goods, any communication you have while fulfilling your project likely needs to follow specific cybersecurity and documentation standards.
If your business doesn't have the IT staff or skill set in-house to stay compliant with these standards, managed services and IT solutions can help.
Standley Systems is uniquely positioned to serve the state contract
For over two decades Standley Systems has been engaged with the state contract. In doing so we've built our framework to support the agencies, municipalities and schools who rely on the contract to support their continued growth, goals and objectives.
So how does Team Standley accomplish this?
Dedicated Account team whose sole focus is to support the state
Technicians strategically placed throughout the state to support all 77 counties
4 hour response time with 24/7/365 service
Warehouses positioned across the state to best serve all 77 counties
Services for HP Enterprise Contract Vehicles:
Standley Systems supports HP Enterprise contract or contract vehicle recipients with IT solutions and services for both types of contracting needs, as well as services for information technology throughout the state of Oklahoma. We pride ourselves in responsive support to small businesses, government contractors, government agencies, federal procurement, schools, and more.
Whether you need assistance with large information technology deployment or ongoing support for your GSA schedule contracts, Standley's partnership with HP Enterprise—along with our decades of information technology experience—allows our team to provide valuable expertise and support for customers running federal contracting businesses.
If you're looking on the open market for the right solution to service your HP contracts or vehicles, talk to us! Whether you're dealing with GSA, ID/IQ, or WAC contract vehicles, you need IT expertise, government experience, and reliable support that match your unique business needs as well as your contract vehicle requirements.
Document Lifecycle Services:
Hewlett Packard Enterprise

was awarded participation in the contract vehicle program for Computer Equipment: Laptop including related peripherals & related services for NASPO ValuePoint Contract Number MNWNC-115 and MNNVP-134 HP. Standley Systems also offers document lifecycle services with these HP Enterprise solutions. If you have a multiple award schedule (GSA schedule contract), you may have multiple options to choose from to better serve your information technology needs.
We offer and manage marketplace HP Enterprise products and services available through resellers and HP Enterprise and its partners to fulfill federal and state contract vehicles for document lifecycle management (such as SW1020HPE, SW1020-HPE, and 1020-HPE).
Our offerings include:

HPE hardware, software, and services delivered through SW1020HPE
Aruba Networks hardware, software, and services delivered through SW1020HPE.
HP Inc. hardware, software, and services delivered through

SW1020HPI

.
There is no "one size fits all" when it comes to technology solutions for your organization.
Each contract vehicle is different, and often, so are the businesses fulfilling those contracts. For each customer, the Standley Systems team learns about the details of your contract vehicle, any relevant FAR rules, and your business's current IT capabilities.
Then, we customize contract vehicle service packages and plan to implement solutions based on the size and length of your contract and the range of resources that need to be managed. After a thorough consultation, we'll work with you to develop a package that's right for your business and your budget.


How Standley Systems supports federal contractors across industries
Standley Systems has experienced helping businesses across industries fulfill contract vehicles. We offer support for HP Enterprise solutions and document lifecycle services for federal contracting businesses in architecture, education, energy, finance, healthcare, and more.
Learn more about the IT challenges that federal contracts face when fulfilling contract vehicles
Work with Standley Systems to succeed with your contract vehicle
We work with your team to learn what kind of contract vehicles your business deals with, getting more information from you and the contracting officer that you're connected with. Standley Systems has helped small businesses, educational institutes, and other organizations develop a strong foundation of IT infrastructure and technologies to enhance their federal contract proposals and fulfillment.
Ready to learn more about how Standley Systems can help your business use IT solutions to fulfill federal contract vehicles? Contact us today to see how we can make your business a reliable, valuable service provider for any government agency.