7 min read
7 Types of IT Managed Services That Benefit Small Businesses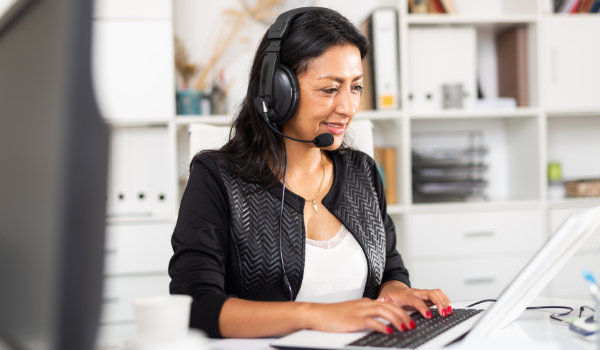 Managed IT services let you outsource various parts of your IT department to a third-party company known as a managed service provider (MSP). These companies offer various onsite, offsite and cloud-based services that include networks, cloud computing and cybersecurity.
The use of Managed IT services is growing rapidly. Initially valued at $23.3 billion in 2020, the market is projected to reach $43.94 billion by 2026 with a compound annual growth rate of 11%. The increase in growth reflects the competitive advantage MSPs can provide, with many companies choosing to outsource their IT to save money, increase the productivity of their business operations, and boost profits.
Different Types of IT Managed Services
MSPs offer a wide range of IT services, allowing companies to choose the right combination for their business, with options to grow and scale. Not all MSPs provide all services, however. Some "pure-play" MSPs offer one type of technology or one vendor. Others offer a combination of technologies from multiple vendors in addition to their own native services.
When exploring MSPs and the services they offer, it's essential to understand what types of services are available and how they work together. That way, you can add more services from that MSP if your company grows without changing providers.

Some standard managed service offerings include:
1. Managed Networks and Infrastructure
Network services include establishing Local Area Networks (LANs), Wireless Application Protocols (WAPs), and other connection types between computers and devices. Services related to the network include managing data storage, security, and automated backups.
2. Managed Security
Managed security is an umbrella term to describe network security measures that include firewalls, anti-malware, and anti-virus software. Since security also relies on employees, these services usually include staff training that teaches them how to identify threats and keep devices safe while working remotely.
3. Managed Support Services
Managed support services are an option offered by MSPs covering IT support services for various issues spanning hardware, software, network problems and operating systems.
4. Managed Print Services
Managed print services are fully integrated programs that help companies streamline their printing operations. MSPs optimize and configure all printed document output while maintaining all print devices.
5. Managed Cloud Infrastructure
Cloud infrastructure management includes cloud computing, storage and network services. Some providers also offer hybrid cloud options that combine private and public clouds that can distribute services efficiently.
6. Managed Software as a Service (SaaS)
SaaS services allow companies to purchase the rights to use software from a cloud service provider. The subscription-based model enables businesses to customize the number of users while the service provider manages hardware, software, and application updates. Examples include Office 365, Adobe Photoshop, Quickbooks, and anti-virus software.
7. Managed Wireless and Mobile Computing
Managed wireless services configure networks to allow employees, guests, and customers to connect to the internet with mobile devices via multiple access points throughout the property. Since it's cloud-based technology, MSPs usually control, manage and address issues remotely.
Is Managed IT Right For Your Business?
While having an internal IT department has its benefits, it's not right for every business. Some businesses are too small while others don't have the budget. In the past, that meant a reduced competitive advantage that favors larger companies, however that's no longer the case today. Thanks to managed IT services that leveled the playing field, smaller businesses now have access to world-class technology infrastructure and services. It's no wonder managed services are growing in popularity - nearly two-thirds (64%) of organizations are using MSPs for at least one IT function, according to a CompTIA study.
Managed IT helps your business keep up with technology
Software, hardware and digital communications are always in a state of innovation. Can your business keep up?

For most businesses outside a tech-focused business model, it's a constant challenge. That's why managed IT services make sense for smaller companies. Outsourcing IT gives a business the freedom to focus resources on its core business model instead of expensive IT issues. Rather than struggling to keep up with hardware and software problems, employees are free to focus on your business objectives that grow the business and increase profits.
Managed IT Services Give you Top-Level Service
Managed IT service professionals give businesses access to first-in-class service. That's because MSP experts typically deal with a range of similar issues across different types and sizes of companies, and that specialized experience gives them the ability to solve technical problems with greater speed and efficiency.
MSP experts also bring extensive design and implementation experience across a range of different companies spanning various industries. That extensive expertise allows them to tailor a managed services solution that's right for your business.
Managed IT Services Provide Greater Security
Data is more critical than ever - and hackers know it. Keeping up with the latest techniques used by cybercriminals requires time and resources. That's why it makes sense to outsource your cybersecurity services to a managed IT services provider.
Cybercrime affects businesses of all sizes, and most small and medium-sized companies do not have the expertise or time needed to stay up-to-date and keep their network secure. An MSP can protect your network and the data it contains with top-level security measures and remote network monitoring that stops threats in their tracks while neutralizing issues before they turn into significant problems.
Managed IT Services Help Grow Your Business
Thanks to managed IT, smaller companies now have the tools to compete with larger players through managed IT services that let businesses of all sizes access leading market services without costly infrastructure upgrades.
Outsourcing IT allows your employees to redirect resources from constant technology problems that can reduce productivity, cause frustration and zap valuable time. That way, they can focus on achieving important business goals and objectives that can grow your business.
How To Choose a Managed Services Provider
Choosing an MSP is different than choosing a regular vendor because that company is more than just a service provider.
When you outsource data and software services to a third party, that company effectively becomes part of your organization. That's why you should view an MSP as a trusted partner in your business. Here are some critical questions to consider when making the choice:
Will my MSP be available 24/7?
Your network never turns off. That's why your MSP should be available 24 hours a day, seven days a week, every day of the year. These details are available in the service level agreement - a legal document that outlines their responsibilities, obligations and commitment to you as a customer.

Will my call be routed to an overseas or out-of-state call center?
Your MSP should be located as physically close to you as possible. And when you call, you should be able to talk to knowledgeable employees that can resolve your problem as quickly as possible instead of being shuffled around between departments.
How long will it take to get a service call response?
When evaluating an MSP, inquire about a guaranteed response time. Since time is money, your MSP should be able to provide service quickly in emergencies.
Does my MSP have a backup and recovery plan in the event of an emergency?
Make sure your MSP has a comprehensive back disaster and recovery plan that ensures you never have to worry about the security of your data when disruptive events happen.
What about network monitoring? Does my MSP offer remote monitoring?
Make sure your services provider offers both onsite and remote network monitoring services 24 hours a day, seven days a week.
Bring Value To Your Business With Managed IT Services
Cost savings, improved efficiency, and increased productivity are possible when you outsource some of your IT services to a managed IT service provider. Whether it's cloud services, SaaS, network management, managed communication services, or cybersecurity, a managed IT service provider can help bring your IT requirements up to speed with the rate of technological innovation.
The experts at Standley Systems can help transform your business by tailoring a customized package of services that will give you a competitive advantage on today's digital landscape. As your chosen technology partner, we are committed to your success through solutions that allow your business to grow today and thrive in the future.