4 min read
Choosing a Managed Print Service Company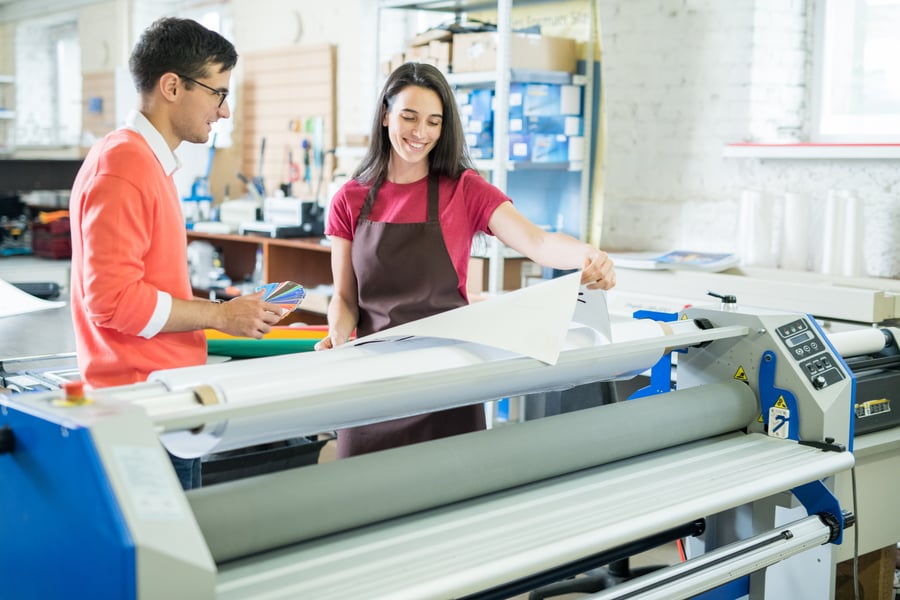 World-class professional managed print services backed with the kind of reliable and friendly support you would expect. Since 1934, Standley Systems has been a proud partner of businesses everywhere with managed print strategy solutions that improve efficiency, increase productivity, and add real long-term business value.
How to Choose the Right Managed Print Services Partner
Printing solutions vary significantly in quality and quantity, and sometimes big upfront savings translate to increased extra costs in the long run.
The right managed print service (MPS) provider can make a world of difference - from the efficient operation of your printing fleet to the quality of print jobs, and level of support. Since finding the right printing services provider is not something you will do often, make sure you cover all your bases the first time around by asking the following critical questions:
Does the MPS provider have a successful track record?
Many managed print service providers are available on the market today, so assess your options carefully. First, ensure that your potential partner has a proven successful track record in providing extensive printing services and reliable support for businesses like yours. Other important questions to ask include:
What equipment and software do they use?
Do their solutions integrate with my current IT infrastructure?
How many years have they been in business?
Who are their technology partners? Are they reliable?
Do they have a help center located near me? How long are the wait times?
These types of inquiries will help you determine if the potential company is a good fit and reliable partner in the long term.
Does the MPS provider offer free assessment?
Managed print services are not a one-size-fits-all solution. Once you have a shortlist, ask for an assessment to get some insight into how well the company can tailor a service package to fit the needs of your business.
Is going green a priority for my MPS provider?
Sustainability should be part of any long-term managed print services strategy. Reducing document output and using energy-efficient equipment not only help the environment but can significantly cut printing costs. Ask your potential MPS provider about recycling, waste reduction, and print control strategies you can use to go green while positively impacting your bottom line.
Will my MPS investment provide a significant ROI?
Office printing services should go beyond providing print devices, software, and supplies. An effective long-term strategy should include a significant return on investment (ROI) through increased efficiency, improved productivity, and reduced printing expenses.
Does the MPS provider understand my workflow?
Businesses today rely on both paper copy and digital documents. Your potential MPS provider should be able to integrate both hard and digital document management processes into one workflow that provides efficient information flow throughout your business.
Does the managed print services program integrate with your IT infrastructure?
Increased connectivity is an essential part of your digital evolution. Besides connecting all departments with the power of data, software integration saves time, reduces costs, and enhances collaboration. That's why it's important to make sure your MPS provider uses software and hardware that integrates with your current IT infrastructure and connects seamlessly to cloud applications used by your team.
Will the MPS provider's services scale easily with the growth of my business?
Choosing to outsource business printing is a significant investment. Make sure there are options to upgrade and expand services in a seamless way that adapts to the growth of your business.
Does the MPS provider make print security a priority?
Security should be a primary concern for many business processes that take place online. Ensure your MPS provider uses top-notch security infrastructure and remote monitoring to ensure your data is safe 24 hours a day, seven days a week.
Industries We Work With
Standley Systems has been in business for over 80 years, serving companies everywhere across a wide range of industries.
Architecture, construction, and engineering
Gain access to files easily with wide-format printing equipment, document scanners, and document management systems that store files and help you find them when you need them anywhere there is an internet connection.
Education
Easily print, scan and store files using multifunction printers and a flexible printer fleet that adapts to your changing print environments. Standley Systems has been working with the Oklahoma educational providers for decades, providing robust printing solutions while minimizing expenses.
Standley Systems helps energy companies succeed with wide format printers, mobile data solutions, and statewide field service technicians that provide first-in-class service to help you create, archive, and find documents when you need them at any location.
Discover innovative solutions for document production and file management that ensure privacy - all while reducing the cost of printing and saving valuable resources. Standley understands the needs and challenges of the healthcare industry and provides solutions that align with your financial goals so you can focus on improving health outcomes.
Finance
Protect valuable data while connecting your organization with state-of-the-art infrastructure that improves efficiency and productivity. Standley puts security first with robust safety protocols while providing printing infrastructure solutions that enhance workflows and operational processes across your team.
Government
Boost public sector services with private-sector innovation. Standley Systems has partnered with Oklahoma-based government offices to provide solutions that help public sector agencies provide better services while minimizing expenses.
Legal
Maximize your use of technology while focusing on providing better client services. Standleys simplifies document management with solutions that are secure, efficient, and help your team improve productivity.
Nonprofit
Standley Systems understands that nonprofits work differently. Our experts are ready to help you implement solutions that make every dollar count so you can focus resources on the communities you serve.
Not All Managed Print Service Companies Are Equal
Choose an MPS provider with a proven track record of delivering reliable managed printing services to local businesses located where you are. Standley Systems is proud to be a partner of the Oklahoma community by helping businesses everywhere unlock the power of technology to prosper today and thrive in the future.