In every business and industry, investing in the best tools and technology is critical for long-term success — the growth of hybrid and remote work has made those decisions even more complex.
With interactive whiteboards from OneScreen, we help our customers create collaborative work environments while providing the managed services and technical support needed to make integrating and using these tools easier.
Managed Services: Maximize Productivity By Integrating Interactive Whiteboard Software
Standley Systems has been helping organizations across Oklahoma identify and find the right business technology solutions for their specific needs. Now, with interactive whiteboards from OneScreen, we can help organizations in OKC, Tulsa, and beyond integrate these innovative tools into their business and student learning processes.
If you have a managed services agreement with Standley's, you will be able to utilize these whiteboards, ensuring smooth performance and a seamless user experience. We provide our customers with exceptional technical support, device management and security, and maintenance and repairs, all laid out in your service agreement with us.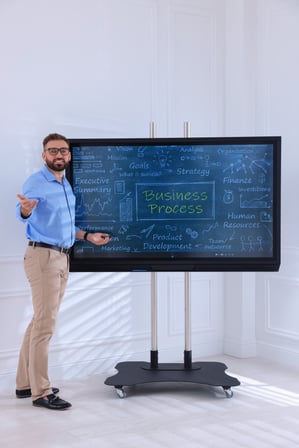 Business Value of Smart Boards: Real-Time Collaboration and All-in-One Communication
Whether working in-person, hybrid, or remote, today's organizations use multiple channels of communication, which can make it difficult to manage information sprawl, keep track of project progress, and keep people aligned to common goals.
With OneScreen interactive displays, teams can access all their communication and collaboration tools in one place — and get so much more done than ever before.
How Standley Helps Businesses Maximize the Benefits of Interactive Whiteboards
---
A Customizable Interactive Experience for Productive, Powerful Meetings
With interactive screens as the center of all your communication and collaboration, OneScreen software makes it easier to keep meeting participants engaged. Meet with up to 50 people at once, convert hand-written notes with built-in text recognition, annotate on high-quality displays of videos or images, use remote control capabilities, and much more.
---
Easy Integration Across All Your Software, Operating Systems, and Hardware
No matter how useful, investing in interactive screens won't do much good for your business if they're not compatible with your existing technology. But not only do OneScreen whiteboards easily integrate across operating systems (e.g., Windows, Mac, Android,
iOS, and Chrome OS), but we can troubleshoot any software or hardware compatibility issues.
---
All Your Interactions in One Place: Record Meetings, Save Notes, and Survey Teams
One of the biggest challenges of adapting to hybrid and remote work is digital tool sprawl — businesses might use one system for chatting, another tool for virtual meetings, and yet another for taking and sharing notes. With OneScreen, you can access it all in one place, and Standley's can provide document management services to help you make the most of these capabilities.
---
Reliable Support and Troubleshooting from Experts at Standley Systems and OneScreen
Storing all your meeting notes, video recordings, and other documents can dramatically improve your productivity, and OneScreen Screen Skills Gurus can help you get up to speed faster. But centralized data storage comes with the risk of losing valuable information – fortunately Standley's has the technical support, document management, and cloud backup services to prepare your business for anything..
Learn More: Frequently Asked Questions About Using OneScreen Whiteboards
Want to know more about different ways you could use whiteboard screens in your business or learning environment? You're not alone — these frequently asked questions can help you learn about their capabilities. As always, if you need more information, you can contact us with additional questions..
Want More Insight into Our Tech Support and Managed Services Expertise?
Ready for Interactive Remote Collaboration? Contact Standley Systems
Adding interactive whiteboards to remote and hybrid workplaces, as well as learning environments, can take your collaboration capabilities and productivity to the next level. But with all the document management systems and connected devices that businesses use today, figuring out how to quickly adopt and onboard new collaborative tools can seem daunting.
The experts at Standley Systems can help you make the transition to interactive collaboration, no matter where you and your colleagues or students are. For decades, we've delivered innovative business technology solutions and provided reliable managed services and technical support for businesses in Oklahoma and across the United States. Find out how we can do the same for you – fill out the form to contact us today.
If you're a current client who is interested in using an interactive whiteboard system for your business, please get in touch via the client portal or contact remote support to learn more.