5 min read
15 Managed Print Services Questions To Ask a Vendor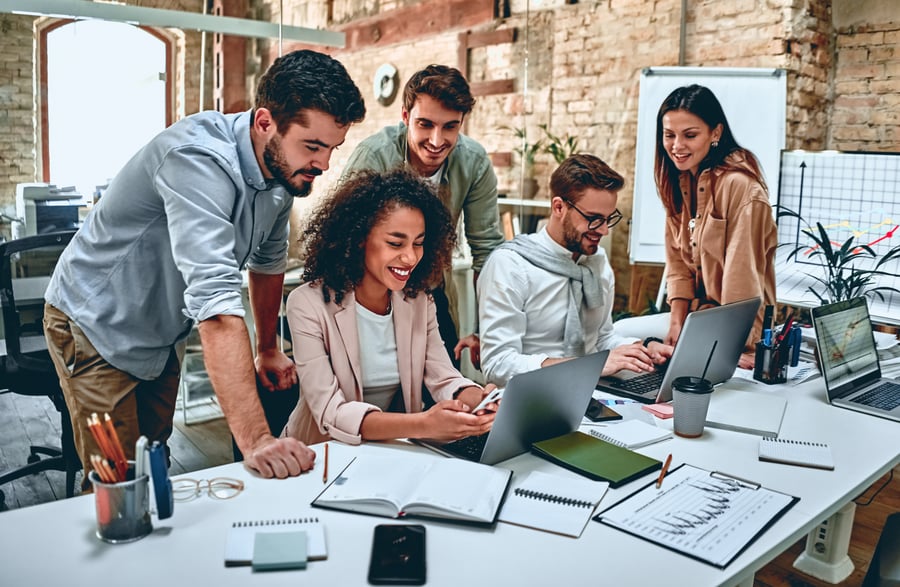 Looking to outsource your printing needs to a professional managed print services provider? Make sure you are thoroughly informed on all the details before signing the contract with this series of questions that cover everything you need to know.
Are managed print solutions a good fit for your business?
Managed print services (MPS) enable you to outsource all your printing requirements to a qualified third-party provider. By putting your business requirements into expert hands, your fully-stocked printer fleet will always be in top working order, and support will be just a phone call away.
Interest in MPS has grown significantly in recent years and is expected to reach $50.78 billion by 2023 at a CAGR of 8.5%. With benefits for both small and large enterprises, businesses across a range of industries are choosing to outsource the complexity of their printing infrastructure to qualified experts.
Many managed print service companies have sprung up as a result of the increased demand. Since service levels can vary significantly between providers, it's critical to understand everything in your contract before signing the bottom line. Standley knows exactly what you need from a service provider, and we'd be happy to give you a free managed print assessment.
To help you make the right decision, here are 15 questions to ask when choosing a provider:
1. What do managed print services include?
Managed print services can range across providers. At the very least, your vendor should include the following three services in your contract:
Remote Print Device Monitoring
Remote device monitoring ensures that your print fleet is in top working condition. In addition to making sure your printers are always online, remote monitoring prevents problems before they start by addressing minor issues before they cause serious consequences.
Automated Supply Monitoring and Replenishment
Managed print services generally include supply monitoring with automatic replenishment. Your provider will receive alerts when supplies such as paper and ink cartridges run low, and new supplies will be delivered directly to your business.
On-Site Support and Help Desk Service
When printers break down or need maintenance, your MPS partner should provide you with on-site repairs to keep your fleet in top working condition. Along with maintenance requirements, you should inquire about help desk services, ticket wait times, and what days and hours the call center is available.
2. Is my business too small for managed print services?
If your business requires a large volume of printing, then it's probably safe to say that you will benefit from MPS. By outsourcing your printing needs, your business will experience numerous advantages such as increased efficiency, higher security, and improved worker productivity.
3. Do managed print services lower the cost of printing?
The answer to this question depends on the efficiency of your current printing infrastructure.
Do you have separate equipment leasing, maintenance, supply, and repair expenses? Hiring an MPS company can simplify these processes while saving your employees significant time by outsourcing everything to one provider. In addition, your MPS partner can assess your current printers, print job volume, and business processes to find ways to improve efficiency, reduce costs, and maximize employee productivity.
4. How are managed print services more efficient?
Using a managed printing solution helps improve efficiency by lowering print usage, streamlining workflows, and helping employees save time from troubleshooting printer issues and ordering supplies.
5. Are managed print services environmentally friendly?
The answer is yes! Implementing MPS brings new printing technology to your business with software such as:
Papercut - print management software that gives you insights such as how much you are printing, what paper you are using, if print jobs are in color, and more. In addition, Papercut lets you set rules such as automatic double-sided printing and restricted use of color printers to lower costs and reduce waste.
LaserFiche - document management software that automates digitization so you can easily find documents without searching in filing cabinets. Besides saving money, Laserfiche helps you cut down on paper use by providing an easy-to-use repository. That means your staff will save time finding files while reducing printing costs and preventing excess paper waste.
6. How much do managed print services cost?
The cost of managed print services varies according to the size of your business and your printing needs. Generally, the total cost takes into account several factors in your print environment. These include the total number of devices, large-format devices, multifunction printers, print volume, and the cost of supplies.
7. How flexible are managed print services?
MPS can be customized according to the needs of your business. Depending on your agreement, you can customize your plan according to the number of devices, print volume, color vs. monochrome printers, and help desk support level.
8. What are Universal Print ready or compatible printers?
Universal Print is a cloud-based solution that allows you to manage your printing requirements without an investment in on-premises print infrastructure.
9. Do managed print services lessen the printer burden on my IT team?
An MPS provider can optimize your network, integrate your current software, configure printer drivers, and monitor your devices for errors and performance issues. For most enterprises, this reduces the burden on the IT team and allows them to focus on activities that are more aligned with key business initiatives.
10. How often will I get new supplies?
Implementing managed print services typically includes network monitoring that continuously checks for supply levels such as paper and toner cartridges. When levels run low, the provider is notified and will automatically ship new supplies to your business.
10. How often will my printers receive maintenance services?
The frequency of equipment maintenance depends on your service contract. Typically, office printers will receive maintenance according to a set schedule that ensures they are kept online and in top condition.
11. Are managed print services secure?
MPS generally leverage security protocols that ensure data is kept secure within your network. By monitoring your network 24/7, your provider can prevent minor issues from escalating into major problems.
12. How well can you integrate managed print services with my IT infrastructure?
Most MPS providers implement print management programs that integrate with your current infrastructure, so all networked printer devices sync together and work efficiently.
13. What levels of support come with the managed print services plan?
Some MPS services have different support levels that let you customize the service according to your needs. Some factors to consider include the frequency of on-site visits and help desk ticket times.
14. Is the support team located near me?
Some managed print companies are local to you, while others centralize their call centers in other states (or even countries). Managed service providers local to you may offer better response times, and their close proximity can even result in cost savings.
15. How can I get started with managed print services?
The best way to get started with MPS is to request a print assessment of your current fleet. An expert can help you determine the optimal number of networked print devices you need in addition to ideal printer placement. A comprehensive assessment should also include tips for increasing security, improving workflows, and reducing costs.
Ready to learn more about MPS?
Managed print services can benefit businesses of all sizes across a wide range of industries. Contact Standley Systems today for a free assessment and print strategy that aligns with your business goals.