6 min read
Enterprise Content Management Solutions for Your Company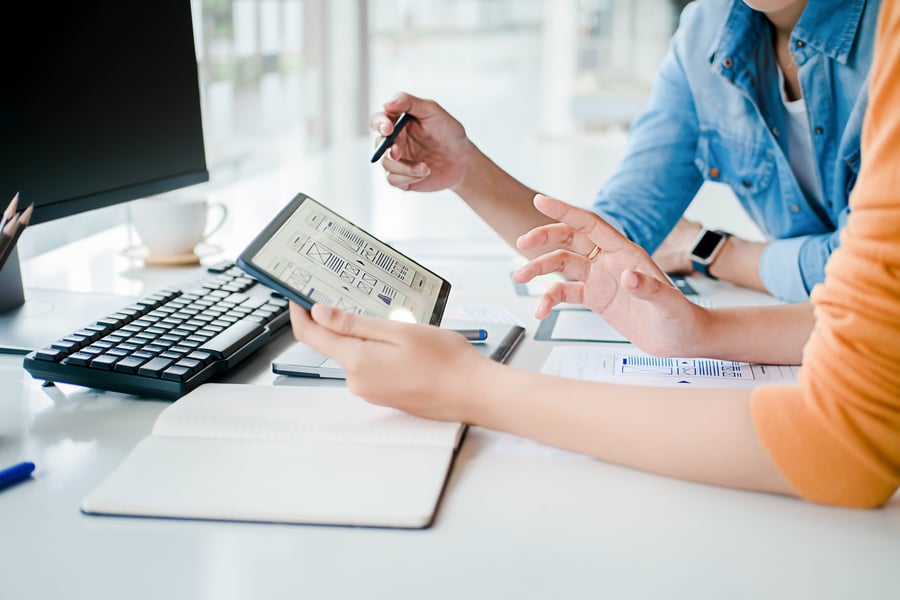 Enterprise content management is an essential feature of most any modern business that works with documents, data, and information. Knowing how to manage, share, and harness information quickly and effectively can greatly enhance company productivity.

So, what is enterprise content management (ECM), and why does it matter to your business? We'll take a closer look at the features of enterprise content management solutions and how (and why) your company stands to benefit from using or upgrading your content platform.
What Is Enterprise Content Management?
Enterprise content management (ECM) can be defined as the process behind digitally managing and applying a company's information and business content to support its processes and business goals, ensure that information is accessible, and make data and information as useful as possible at all points throughout the content lifecycle.

It's a long definition, but the features and abilities of enterprise content management software touch on many business processes.
Key Features of ECM
Enterprise content management solutions enable an organization to take full advantage of:
Customer information
Structured information
Records management
Company knowledge embedded in its content
ECM solutions capture, store, activate, analyze and automate business content and provide value to data that was previously unstructured and unavailable.
When effectively managed across the organization, content can be used to engage customers, enhance collaboration, automate business processes, and store and recall electronic files.
How Does ECM Work and Why Do Companies Need an Enterprise Content Management System?
Sharing documents, spreadsheets, images, and other digital files in real time is essential to any modern company. Such collaboration demands immediate, shared access to resources.
But where is this content typically stored? Much of this content is located in forwarded emails or on employees' individual computer hard drives. As this unstructured content grows, companies large and small are committing more and more resources to manage it.
ECM solutions focus on process automation by giving everyone in an organization easy access to all of the information necessary to make decisions, complete projects, and boost efficiency.
ECM also eliminates paper documents and the related filing systems. By converting paper files and other hardcopy types of content into digital files, collaboration, efficiency, and capabilities all benefit.
ECM Streamlines Records Management and Clears Digital Files
Enterprise content management solutions span the long term lifecycle of content, from capturing information to publishing to archiving documents. ECM can also automate document deletion, which helps remove useless electronic files that only take up space.
ECM systems greatly reduce time spent searching for files and types of content. They organize existing digital files in a central location, making content easily available to the right people at the right time.
Unlike having to painstakingly search through filing cabinets, ECM systems let users easily recall documents and share information with team members. No more cumbersome email attachments or physically mailing paper documents.
If your company is deciding on making the switch to an ECM platform or needs to upgrade its enterprise content management software, you'll have some important considerations on your hands. If you need any feedback on your current ECM needs or help deciding on a new system, the experts at Standley Systems are always glad to share our expertise.
Three Key Types of Content Management Systems
An enterprise content management system can include diverse capabilities and types of services. However, most systems fall into three general categories:
Collaborative Content Management
Collaborative content management lets multiple users access and modify a single document or piece of content. This system works well for companies that involve multiple stakeholders and work directly with other companies and clients. It also enables users to easily track and update the most current versions of documents.
Web Content Management
Organizations with more complex websites and strict branding guidelines can benefit from a web content management platform. The look, feel, and functionality of a site can be better managed using this type of content services platform. Users can easily update, publish, and modify site content in real time using such a system.
Transactional Content Management
Organizations that use many types of content — ranging from paper documents, to records management, to electronic files, images, video, and more — benefit from a transactional content management system. Document capture features coupled with the ability to easily store, classify, and retrieve documents enhances efficiency. This ECM system can also be integrated with other apps to ensure that content is always available and shareable among users.
The Difference Between ECM Systems and Document Management Systems
If you've done any reading about management systems for electronic files, you've probably come across document management systems (DMS). DMS platforms are similar, in some ways, to ECM systems but also different.
A document management system is a software-based system that tracks and stores electronic documents, much like an ECM. For some companies, DMS may even be a better fit.
However, document management systems don't have the same capabilities as an enterprise content management system. They're designed more for storing and recalling documents and text-based electronic files. ECM systems, conversely, focus on process automation, enhancing workflows, and performing other "smart" features that give an efficiency boost.
The similarities and differences between these two content services platforms are explained in more detail in a related post.
Different Companies, Different Needs: ECM Solutions Vary by Industry
Content services platforms and the need for their specific capabilities vary by industry. Some industries are still awash in paper documents and have yet to switch to cloud based storage and functionality. Others must contend with strict security and liability factors.
The various types of industries below can all benefit from launching and learning about enterprise content management solutions. Many, too, have specific needs that could be addressed by ECM solutions.
Finance – Financial companies often rely on paper documents for backing up and securing client information and transactions. However, an ECM platform can prevent the need for further paper and clutter by securely storing electronic files.
Oil and Gas – Having remote access to all documents and company information matters to the oil and gas industry. Even though workers are often off-site, information must be relayed and accessible.
Healthcare – Patient privacy laws, like HIPAA, are strict. The healthcare industry counts on secure storing and sharing of documents containing sensitive patient information.
Law and Government – Government and law offices need access to plenty of stored information. Good records management comes with an ECM platform, enabling quick access and look-up of data.
Manufacturing – Blueprints and schematics are but some of the many types of digital files that ECM systems handle. Manufacturing is all about efficiency and that includes managing documents efficiently.
Educational Services – Schools and other educational institutions manage data on test scores, enrollment, and many other areas. Content services platforms keep data accessible and well-managed, as well as in compliance with federal regulations like FERPA.
Arts and Entertainment – Digital files aren't all text and spreadsheets. Managing large video files and image files requires an ECM system up to the task.
Construction – Building plans and schematics must be accessible from mobile devices and off-site locations. The construction industry counts on ECM platforms to stay nimble.
Other Professional Services – Almost any administrative or service-based profession will involve dealing with documents, emails, and digital files. Content services platforms are designed to make these dealings easier and faster, improving job performance and, even, satisfaction.
Benefits of an ECM Platform and Document Management
By now, the key benefits of and abilities behind enterprise content management solutions have become
Easily capture documents digitally
Store them in a repository
Retrieve documents from any device
Automate document-driven processes
Secure folders and reduce organizational risk against cybersecurity threats
While an ECM system will support overall organization, your individual documents should be organized and prepped for efficient access and use. Document management best practices matter, even with a fully capable ECM system in use.
Keeping Your ECM Secure
Security matters, and that's hopefully no surprise. One of the biggest benefits of content services platforms is that they can provide and enhance security layers for any and all sensitive documents and data.
Here are some quick tips on how to keep your ECM, and the content inside, safe from threats.
Password protect document access
Use tiered privileges to define who can view, edit, approve, or publish content
Track edits, views and version histories
Automatically backup data
Keep paper records on hand to ensure compliance
Encrypt folders and documents
Deploy safeguards and audit trails
Companies Providing ECM Services
The number of companies that provide enterprise content management software and services is growing. And while finding the right ECM platform for your business content matters, so does customer experience and working with the best company.
A good information services provider knows how to evaluate the specific needs of your company and recommend a best-fit platform. Building up structured content and learning and installing collaboration software will take time. But a good company can guide you through these processes.
Standley Systems Is Ready to Learn More About Your Company's Needs
As described above, partnering with the right company for your digital transformation is critical. Standley Systems has worked with Oklahoma businesses to implement all types of technology solutions to enhance business processes and business content. Contact us today to learn more about our risk free consultation.