5 min read
Achieving Business Transformation and Digital Transformation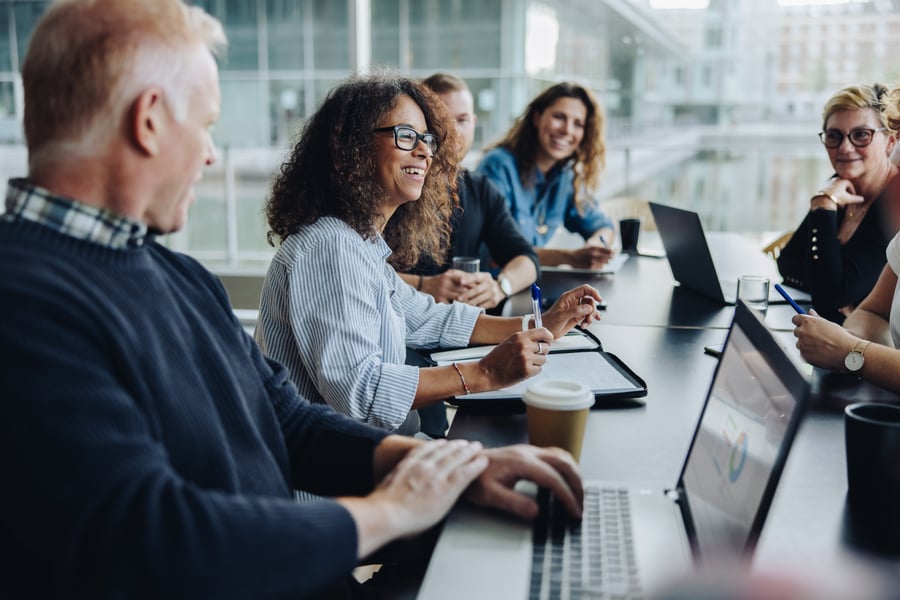 For some companies, business transformation and digital transformation are synonymous. Improving business processes means adding or enhancing digital tools and digital platforms. But even with the many different transformation types underway in businesses, digital strategy can't be ignored.
So, what's the best way to go about successful transformation in terms of changing digital capabilities? A first step is understanding the reasoning behind and ways to implement digital transformation efforts. Digital transformation helps businesses by improving reach and efficiency, fundamentally enhancing a company's capabilities.
Defining Business Transformation and Digital Transformation
Business transformation involves making fundamental changes to how a business operates. Such changes often involve technology, customer experiences, business processes, management teams, and other features. All aim to improve how business is conducted in a changing environment.
Digital transformation, on the other hand, describes the process of identifying and implementing digital tools and digital technology to bring about change. Change will vary but could involve increased employee efficiency, better customer management, or faster communications among an entire organization.
Taking a closer look at business transformation objectives and goals indicates how digital technology plays no small role in business transformation.
What Does Business Transformation Mean for Today's Business Leaders?
For today's leaders, business transformation means doubling down on efforts to be agile and ready for change. While the process takes time and planning, the benefits of business transformation can affect nearly all business models.
Technology, and the expectations surrounding it, change fast. This means that today's business leaders should be asking questions to gauge their readiness and ability to undergo digital transformation initiatives.
Will your organizational structure support changing digital strategy?
Does your company understand the breadth, and limitations, of digital technology available?
Does your management team and employees have the time and means of learning new digital transformation strategies?
Will your operational efficiency significantly benefit from business transformation and digital transformation?
What Does Digital Transformation Mean for Your Customers?
Digital transformation should seek only to benefit customers. Improved customer experience might even be your inspiration behind digital transformation efforts.
It should be no secret that customers matter to your business, and digital transformation can really help gain a competitive advantage in terms of enhancing customer experience and expectations.
Internal and external digital platforms, and modifications to them, can affect customers by:
Enhancing collection of customer data to better respond to their needs
Changing your business and site interface to reflect customer needs
Improving the digital platforms used to communicate with customers
Successful digital transformation initiatives should be a win-win for customers and companies. That is, both sides tangibly benefit by companies being able to more easily furnish their products and services and customers being able to more easily obtain these essentials.
In terms of enhanced customer service and customer-facing features, business transformation and digital transformation both play key roles that sometimes overlap.
Similarities Between Business and Digital Transformation Efforts
Business transformation and digital transformation go hand in hand. Changing business models and improving operational efficiencies very often means adding in new digital technology and modifying digital strategy.
For example, a company that wishes to improve communication between customers and employees might need a new digital communications portal. Or, a company hoping to enhance its remote meeting and presentation capacity could need digital tools to improve AV capabilities for remote meetings and livestreams.
Here are just some of the benefits shared between digital transformation and business transformation that can occur when both strategies come together:
Overcoming emerging market challenges
Faster delivery of services
Streamlining capabilities and mitigating complexity
Leveraging data to create change
Improving access to and availability of information
It's most often that business transformation overlaps with digital transformation when matters of technology and digital transformation initiatives are at stake. Digital transformation really cannot separate from the digital tools it relies on. Business transformation, conversely, does not necessarily involve technology or digital components.
Differences Between Business Transformation and Digital Transformation
Not all business transformation strategy and change efforts will involve digital components. Even though digital technology is becoming essential to nearly every aspect of business operations, there are still some differences between business transformation efforts and digital change and transformation measures.
Business transformation can involve aspects of change and improvement that are unrelated, or less related, to digital change:
Changes to leadership
Modifying organizational culture
Improving management teams and models and employee self-management
Altering workflow processes to improve efficiency
Improving customer culture and customer-facing interactions
Differences between business transformation and digital transformation matter because, by recognizing distinctions, companies can be sure to target the impetus for change.
In some cases, digital transformation strategies won't get to the root cause of a problem. Transformation and changes to management styles or leadership roles, for example, may be necessary before adding new digital tools to the equation.
Measuring Digital Transformation and Operational Efficiency
When digital transformation initiatives take shape and plans for change are underway, how do you know that digital transformation efforts are working? Having the means and methods to measure successful transformations is necessary.
Standley Systems can help companies to evaluate digital business transformation efforts and effects and overall transformation. By looking at key progress indicators, our experts can advise on next steps and improvements to a plan as needed.
The effects and success of digital transformation can be measured by:
Evaluating the number of users, meaning comparing how many users obtained a software or digital platform and how many are actually using it. Digital solutions can't work and transformation can't occur unless people actually use digital tools available.
Looking at how many processes can be performed. Any new digital platform promises new capabilities. But exactly how much can it do? How many of these abilities will be useful to your teams? Knowing how many processes are being used can indicate a platform's extent of success.
Identifying productivity indicators by looking at the value of outputs relative to time and resources put in. So, if a new tool took aim at improving communication, seeing an increase in messages sent and answered quickly could indicate success.
Analyzing usability by seeing which and how much digital tools are being used. In tandem with looking at how many processes can be performed, knowing which ones are used and of use is key.
Measuring revenue to see financial benefit from new digital platforms. Digital transformation efforts improve efficiency, which can translate to quicker and more frequent sales. Looking at revenue before and after changes to business processes is one important metric.
Why Does Measuring Digital Transformation Help Measure Business Transformation?
Success with digital strategy indicates success with larger business strategy and change efforts. Business transformation and digital transformation have a correlational relationship—one's success propels the other. With successful digital transformation strategies, other aspects of business transformation and operational efficiencies perform better too.
With that said, if digital change isn't coming about easily or as planned, be flexible with change. Cross functionality and new digital capabilities aren't always easy to implement right out of the gate. But, attempting change still gives a competitive advantage, even when the execution and business strategy requires a second look. Digital transformation challenges should be expected, rather than being idealistic and brushing off their anticipation.
Change Doesn't Come Easy. Let Standley Help
Even with the best laid plans, business transformation and digital transformation are processes that hinge on uncertainty. Successful transformations can take multiple attempts and further planning.
Your best bet is to let an experienced partner help guide your digital strategy. Standley has worked with Oklahoma businesses to better their operational efficiency by implementing new digital technology. We'd be glad to hear more about your business and how we might help. Contact Standley to learn more.