6 min read
How to Create a Business Transformation Strategy for Effective Change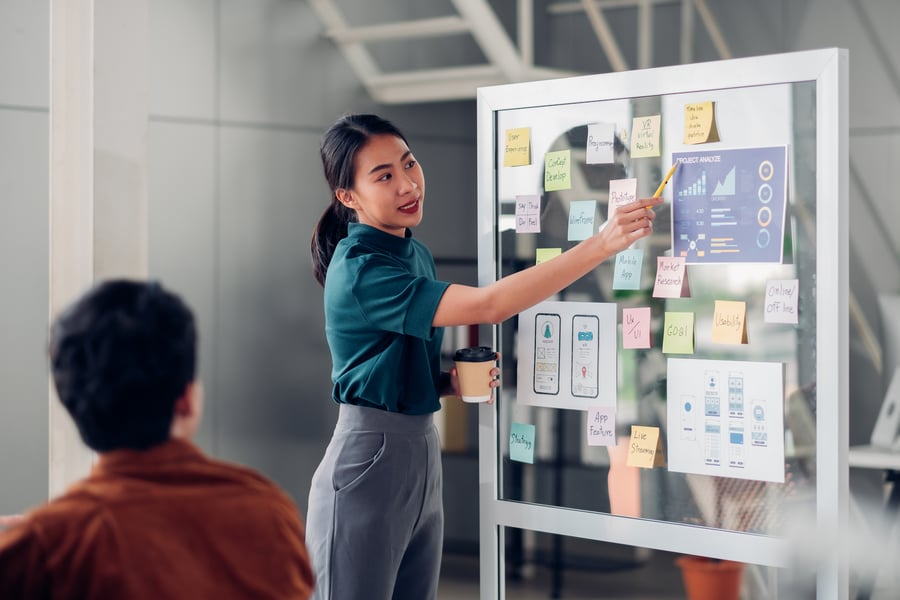 Business transformation strategy involves all of the techniques and processes needed to create change that expands market share, increases revenue, and allows for engagement with new products and services.
Business transformation is powerful, but without the right organizational transformation and strategy, true transformation is hard to realize. Knowing how to assess business processes and plan and make change is the only way to successful strategic transformation.
What is a business transformation strategy?
Business transformation involves making fundamental changes to a business's operations. Such changes can involve digital technologies, customer expectations, processes, product services, and other facets. All aim to improve how business is conducted in a changing market environment.
Business transformation strategy describes the methods and ways behind making these changes. It involves planning for new business models and long-term successful transformations.
Strategic transformation can be broken down into:
Cultural transformation dictates the values among employees and management.
Organizational transformation can affect how teams are structured to maximize people's skills.
Management transformation needed to restructure top-down approaches to permit employees' decision-making with better guidance.
Strategic transformation to manage the constant change of improving a company and its employees and customers.
Digital transformation to ensure that new digital technologies increase efficiency and enable competitive advantage with products and services. Business transformation and digital transformation are tightly entwined.
What prevents successful transformations?
Business transformations fail when the transformation effort lacks strategy. Transformation effort takes work, and successful transformations can't happen overnight. Reasons for failure, as for reasons behind success, will vary based on the company. But common reasons behind failed transformation initiative are:
Lacking necessary urgency
Not putting the time into planning and guidelines
Lacking vision for long-term strategic transformation
Not communicating the plan for change
Not thinking about obstacles to transformation
Lacking short-term goals toward business process transformation
Reaching a goal without planning for continued integration and monitoring
Looking at the reasons behind failure can be daunting. But that's why business transformation strategy comes early on the steps to business transformation and is key to the elements of business transformation.
The Power of Strategy
Business transformation strategy is clearly a crucial facet of change. But too many companies dive right into making change rather than planning change. Organizational transformation is effective only if it lasts. Strategy, it seems, takes strategy.
7 Steps to Developing Your Business's Transformation Strategy
While there are many steps to transforming your business, developing the strategy to do so also takes some planning. Evaluating processes, identifying leaders, making S.M.A.R.T. goals, and even sizing up the competition are but some of the steps toward business transformation strategy.
Step 1: Define Roles
Business transformation initiatives need leaders. Employee engagement really does start at the top, and defining roles and who's in charge is a core business function.
Leaders will further define a business transformation project's goals. Goals can be general or overarching ideas and less specific than objectives. Goals can be simple and straightforward, such as entering a new market or increasing production speed, but they should align with your company's vision, mission, and ideals.
Step 2: Assess Internal Business Processes

To establish a baseline of your business and its practices, it's necessary to assess internal business processes. Organizational transformation can't happen without knowing where things stand.
So, how does a business assess itself? Honest feedback must be obtained from all employees and stakeholders in order to assess and create cultural transformation. Different ways of doing so include using:
Anonymous internal feedback surveys, which let employees share their true thoughts and beliefs on a company without worrying about retribution
Internal interviews and focus groups where employees and management can share feedback openly
Third-party evaluations, involving a neutral outside source to collect and furnish feedback
Standley Systems has experience helping companies with transformation initiatives and plans, especially digital transformation and assessments. Find out more about how Standley can help with business transformation strategy and planning.
Step 3: Collecting Customer Satisfaction Data
Attempting a business transformation effort without minding customer expectations and wants means going at the process blind. Any business process transformation must account for how the change will benefit customers. Simply stated, when customers aren't satisfied with a product or service, they leave. That means going to a competitor or finding an alternative product.
Collecting data on customer satisfaction and other customer feedback can be done through surveys, polling, and other means. For some businesses, the method may not matter as much as the means — obtaining customer data is crucial to guiding future business models and change.
Step 4: Assessing Competition to Gain Competitive Advantage
As with customer satisfaction data, competitor research also matters. Gaining a competitive advantage often means knowing what the competition is up to. Are your competitors undergoing their own types of business transformation? What digital technologies are they adapting? How are their operating models and business processes changing?
Answering these questions hardly involves much sleuthing or undercover work. Rather, take a look at your competitors' products and services. Better yet, continue to monitor their business models to know when a transformation effort is underway. If you're able to access any of their case studies, that can also provide key insight.
Step 5: Invite and Collaborate with Key Stakeholders
Successful transformations rely on not just collecting data but on leveraging it too. After bringing data and feedback together, key stakeholders can help decide what to do next.
Assessing data can define:
Areas of success
Measures to improve
Acceptable performance areas
But knowing this information is important only if you know what to do next. Therefore, bringing key stakeholders together who can interpret this data and feedback and make a plan for improvement is essential.
Transformation effort results in significant changes to organizational transformation and management transformation. Without the right stakeholders at the table, the strategic transformation could end up misguided.

But by focusing on a few specific areas of change — such as customer expectations, digital technologies implementation, or management models — the transformation can and should occur.
Step 6: Making S.M.A.R.T. Goals
Goals are the end results that you want to achieve. Using the S.M.A.R.T. goals framework and acronym, you can more easily identify the pieces you need to succeed.
As a reminder, or if you're unfamiliar with this framework, S.M.A.R.T. stands for:
Specific. In concrete, easy-to-understand terms, what does this goal look like?
Measurable. How do we want our numbers to change? How will we assess our success?
Attainable. Are the timeframes realistic for the goal? In light of our team, budget, and other factors, is it feasible?
Relevant. Is this goal relevant to how we want our business to transform?
Timely. What is our target completion date?
The results of S.M.A.R.T. goals will vary from company to company, but achieved goals will:
Validate the reason behind your transformation effort
Specify the desired outcome
Align with your company's mission and values
Goals shouldn't be confused with objectives, which describe specific actions and steps taken to achieve a goal. Business transformation objectives are themselves a focus of business transformation strategies that are worth fully understanding and formulating.
Step 7: Begin Your Transformation
After completing the planning needed to achieve successful transformation, the next step is to actually begin the strategic transformation. As with many aspects of a business transformation project, the first steps will look different for different companies. Yet too many organizational transformations fail by never getting off the ground.

Don't let this happen. By following business transformation steps, you can be prepared to handle what happens after you launch.
Standley Systems Knows Business Transformation Strategy
You know of the importance of planning your business transformation projects. There's a lot to plan and a lot to process. So, don't go at it alone.
Standley Systems has worked with Oklahoma businesses to plan strategic transformation concerning organizational transformation and changes to digital technologies. We understand the role of information technology in business transformation.
Standley's experts can help manage the processes and planning behind digital transformation and overall business transformation. Find out more about what we offer and how we can help your company.
---