4 min read
Business Transformation: What Is It and How Can it Improve Your Company?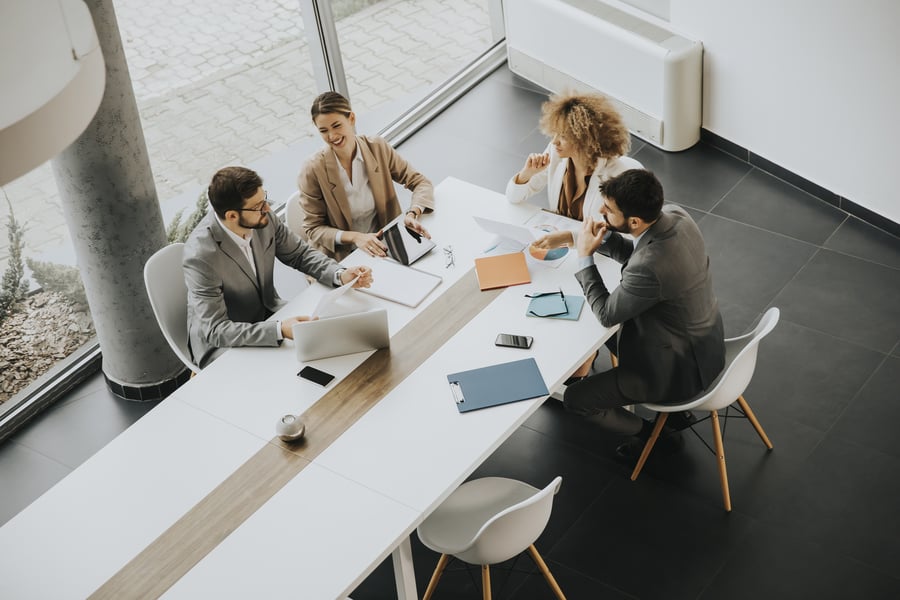 Business transformation involves keeping a business agile and prepared for what's next. A transformation plan and successful transformation involves making changes to optimize how a business runs and also how it incorporates and uses technology.
No business wants to be stagnant. Therefore, understanding and implementing organizational transformation should be a continuous goal.
What is business transformation?
So, what is business transformation? Business transformation involves making fundamental changes in how a business operates. Such changes can involve technology, customer expectations, processes, communication channels, and other facets. All aim to improve how business is conducted in a dynamic market environment.
Business process transformation involves strategy. No business can just transform overnight. But before an implementation plan takes shape, it's important to realize goals and benefits.
Benefits of Business Transformation
The benefits of organizational transformation begin with the approach to transformation. Before change can take place, it's necessary to know why such change should even occur. Defining business transformation objectives is one of the first steps to changing business models.
Business transformation benefits ultimately make a business unit better suited to a marketing environment by changing how business is conducted to cope with shifts. Successful transformation results in:
Continued relevance
Increased responsiveness
Greater resiliency
Better customer engagement
Innovation
Increased revenue
More efficient resource management
Greater agility
Better productivity and efficiency
Agility in changing markets
What does business transformation involve?
The business transformation process will be different for every company. Changing system technology and business strategy happens differently everywhere. A closer look at the elements of business transformation can also shed light on the early, universal properties of change.
Across the board, business transformation often involves operational change, core transformation, and strategic transformation. Here's a summary of these categories.
Operational change means doing what you're currently doing but better. For example, companies undergo digital transformation by upgrading system technology from paper-based to digital models. Operational changes enhance efficiency, speed, and cost-savings.
Core transformation involves doing what you do but differently. For example, instead of relying on a great product, you begin to make that product yourself and market your own version. You're still relying on that product, it's just your own version now. Many companies make successful business transformations this way.
Strategic transformation is perhaps the most significant approach to transformation because it involves changing a company's product or service entirely. More than just digital transformation, the transformation process could involve a drug developer becoming a pharmaceutical distributor, for example.
Types of Business Transformation in a Changing Market Environment
The types of business transformation involve many aspects. And while no two companies are the same, the means and reasons for change can be shared across operating models. Here are several key types of change.
Cultural transformation involves a change in employees' and management's mindset to embrace a new set of ideals. Cultural transformation means changing how people are rewarded and recognized and how concepts translate into action and vision is realized.
Organizational transformation means changing how a company's people operate. This could be breaking down silos, expanding teams, and reassessing how people's skills can be used best.
Management transformation can mean shifting management away from a top-down approach. Changing management scope and structure can mean empowering individuals to make decisions while having the right guidance and leadership to direct functions.
Strategic transformation happens when a company's change goals are clearly defined and an implementation plan is in place. Strategic change can occur across business models as long as the basis for change and plan are in place.
Digital transformation uses technology to enable value, efficiency, and abilities. Business transformation and digital transformation are closely intertwined for most any modern company. Leveraging technology can lead to new products and services or improved customer expectations, communication channels, and other benefits.
The experts at Standley Systems understand that there are real challenges to digital transformation and other areas of change. We can help your company to meet these challenges and implement tech solutions that work for you.
What types of companies benefit from digital transformation?
Almost any modern company can benefit from system technology transformation. In particular, health and pharmaceutical companies can leverage Internet of Things (IoT), electronic health records, and wearable technologies to get a closer look at people's health.
The telecoms industry, as another example, is heavily involved in the role of information technology in business transformation. Consumer analytics, automation, and developments in IT interfaces are all ripe for transformation.
The finance industry continues to undergo management transformation and organizational transformation in order to keep up with customer satisfaction and new operating models, as well.
What makes for a successful transformation?
Understanding not only what is business transformation but what is successful transformation is key. Successful business transformations can look different at different companies, but will involve:
Improved customer expectations and customer satisfaction
Better communication channels
Enhanced responsiveness in a market environment
System technology enhancements that enhance or enable abilities
New products and services for dynamic markets
Making Your Approach to Transformation and Your Implementation Plan
Changing how business is conducted isn't easy. But it can be achieved in steps, not leaps. Outlining business transformation steps [Link to Business Transformation Steps blog post] is vital to any plan, as change without planning is a haphazard approach to transformation.
Strategic goals must be set, with a strong business case for each goal
Planning the scope of transformation means outlining the path that leads to change
Building resources means having the people and abilities in place to realize change
Execution of a plan should also be done in steps and at well-defined stages
Integration means that a plan isn't done when in place. Evaluating your transformation and preparing for further change should be constant.
Preparing for Change? Standley Can Help
Standley Systems has the experience necessary to advise companies on the best steps toward digital transformation. Digital business transformation brings many benefits and expanded capabilities, and our experts can help you figure out the types and scope of technology needed.
If you've asked, what is business transformation? And you've found that digital transformation is the answer, let our team help you make changes for the best.
---