4 min read
Breaking Down the Elements of Business Transformation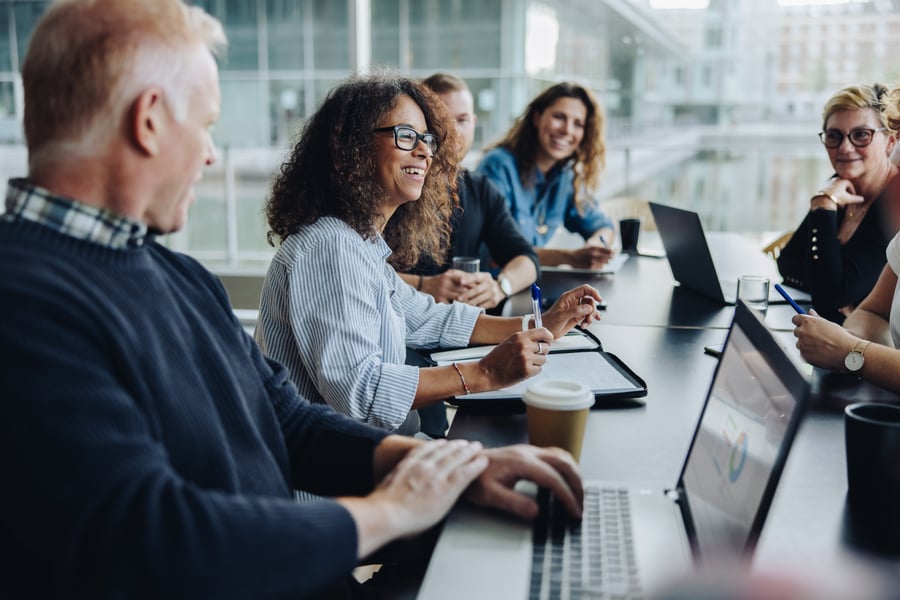 You want to achieve business transformation success. But first, you'll need to know about the elements of business transformation. Transformation success simply can't be achieved in one great leap. Rather, the smaller components and elements should be broken down and understood in order to make change and advancement possible.
Business transformation involves making fundamental changes to how a business operates. Changes can involve improving and modifying disruptive technologies, customer experience, business culture, operating models, and other aspects. All aim to improve how business is conducted across business models. Read more about business transformation and why it matters.
Knowing the basics of business transformation helps companies change, grow, and develop. After learning about the elements of business transformation, the entire process will become more clear.
Key Elements and Types of Business Transformation
Business transformation elements relate closely to the distinct types of business transformation. The types of transformation span the board and can involve data analytics, operating models, business leaders, and other components of change and growth.
Organizational transformation to restructure a company's mode of operation and professional practice, enabling whole new business models and operational processes.
Management transformation to rethink and even disrupt hierarchical means of management to enable more efficient and goal-oriented operations.
Cultural transformation, which alters a company's ways of thinking, organizing, and even its attitudes and mission goals to better align with changing needs and customer expectations.
Information systems transformation, which closely relates to digital transformation strategy and enhancing digital capabilities.
Business processes transformation that boosts efficiency by redirecting manual-based systems or other processes in need of streamlined change.

The Elements of Business Transformation Described
Many business strategists often believe that business transformation is dependent upon disruptive technologies and complex business models. While such features may be aspects of change, the most fundamental elements come down to something much simpler: people, processes, and technology.
People include the stakeholders, employees, business leaders, customers, and advisors who must both realize the need for change and plan out and create change.
Processes, as the word implies, looks at the steps and building blocks needed to achieve transformation success and plan out operational processes leading toward a specific goal.
Technology used for realizing the elements of digital transformation, as technology aims to improve efficiency and broaden the scope of a company's services and capabilities.
Other more nuanced components of transformation, as well as business transformation steps [Link to Business Transformation Steps blog post] often stem from these three fundamental elements.
Whether you're at the early stages of transformation and growth or already have transformation processes and digital transformation initiatives underway, Standley Systems can help manage business processes related to transformation.
Business Transformation Framework and Process
Creating and carrying out change based on a framework is a basic business process and key element to transformation. A business transformation framework takes a structured, planned approach to change, be it changes to digital capabilities, customer experience, management teams, or some other business component.
A basic framework involves identifying the problem or need for change, developing strategy and business transformation objectives to achieve change, and then carrying out the plan. Such a quick overview seems straightforward, but skipping over a proper framework is a common impediment to successful transformation.
Beyond Business Leaders: The Roles and Responsibilities Behind Transformation
Who's involved with business transformation? The answer is everyone! Be it changes to customer expectations, digital transformation strategy, or new management teams, everyone plays a role, including:
Business leaders
Management teams
Employees
Customers
Other stakeholders
While it's often up to business leaders and management teams to initiate change, input from employees and customers can make sure change is as effective as possible.
Employees, customers, and other stakeholders may be closest to the concept or business process being changed. Therefore, they play key roles and should have responsibilities in planning and carrying out the sort of change and transformation that affects all business units. Customers, of course, shouldn't be expected to "work" on change and planning but can offer critical feedback.
Data Collection in Real-Time
Collecting and using data, whether or not you're a digital business, is of value. Data collection incorporates each of the three fundamental elements of business transformation: technology carries out the process of collecting information about people. While many digital technologies carry out data collection, knowing which data to collect and harness will differ between companies and digital transformation initiatives. Surveys and feedback are commonly used to collect customer experience data, for example.
But digital capabilities can reveal more nuanced forms and features of data. For example, data analytics about how many companies are using new digital tools can point to the success of digital transformation strategy. Data that reveals decreased processing times, increased communication, and other quantifiable data analytics points might also help gauge an objective's completion.
Leveraging Digital Technologies
Digital technologies play a multifaceted role in both digital transformation goals and transformation more broadly. Business transformation and digital transformation often intertwine, meaning you can't have one without the other.
Even for non-digital businesses, the role of information technology in business transformation transcends companies. This means that even changes to company culture and management hierarchies can involve disruptive technologies.
While not every change and transformation will necesitate overhauling digital technologies, more times than not, digital transformation strategy will play a key role in broader change.
Standley Knows the Elements of Digital Transformation
Transformation and change don't come easy, and some companies can be unsure where to start with the digital transformation process. If you need to revamp or expand digital capabilities, the experts at Standley Systems can help.
Contact Standley to find out more about how our team can work with you to plan transformation objectives and find the digital technologies that best suit your company and its changing needs. We've worked with Oklahoma companies large and small and are excited to learn more about your business and its goals.