3 min read
Scalability and Security with RICOH Always Current Technology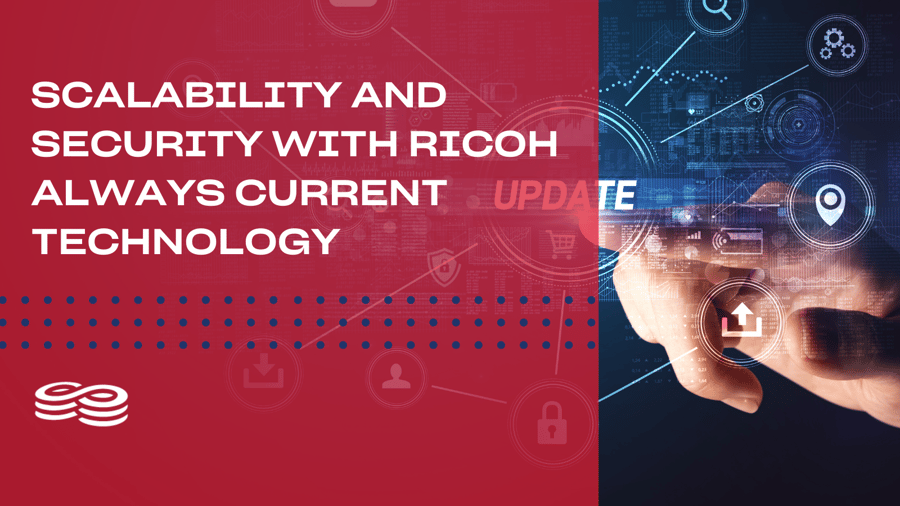 At Standley Systems, we take pride in partnering with vendors that keep our customers at the forefront of modern technology and security capabilities. Now, with RICOH Always Current Technology, our team can easily manage, update, and secure your business's cloud-enabled office equipment, providing your staff seamless document management capabilities.
What is Ricoh Always Current Technology?
RICOH Always Current Technology is a new feature enabling remote, automatic updates to all your RICOH, Lanier, and Savin Intelligent Devices. Instead of budgeting for your office equipment to only last a few years before becoming obsolete, you can invest with confidence in multifunction printers (MFPs) that will advance and improve over time.
RICOH MFPs with Always Current Technology can automatically download updates and initiate installation. As a result, your smart office equipment always has the latest functions and security features.

WIth RICOH Always Current Technology, your business gets the benefit of using quality office equipment from the RICOH product family with simple, automated updates that extend the value of your technology investment.
Benefits of RICOH Always Current Technology
In addition to supporting convenient smart updates, RICOH Always Current Technology, brings a variety of usability, copy, fax, document management, and security functions, including:
Multi-language support
New color features
Advanced print layout support (e.g., booklet, magazine settings)
Communication records
Settings to prevent receiving unwanted faxes
Administrator control over encryption and network connections
Remote login, password, and account management for enhanced data security
End-to-end print job data encryption
And RICOH Always Current Technology allows integration with other intelligent business solutions, like Dynamic Workplace Intelligence. Altogether, these solutions allow your business to increase productivity, streamline work, and secure your documents across your connected office equipment and devices.
How to update your RICOH devices
To download and install the latest version of RICOH Always Current Technology:
Access the RICOH Application site.
Select the Always Current Technology Update button.
Click the install button that appears.
Once your installation is complete, the device restarts with the latest video of Always Current Technology running on it.

Printers that support Always Current Technology
Many RICOH devices your business relies on may support the Always Current Technology update (IM C2000, IM C2500, IM C3000, IM C3500, IM C4500, IM C6000, IM 550F, IM 600SRF, IM C530FB, IM C6500, IM C8000, IM C300F, IM C400F, IM C400SRF, IM 7000, IM 8000, and IM 9000).
The new IM 2500, IM 3500, IM 4000, IM 5000 and IM 6000 B&W MFPs replace the MP 2555, MP 3555, MP 4055, MP 5055, and MP 6055 models. As long as your devices are connected to the Internet and have access to the RICOH Application Site, you can install Always Current Technology on these devices.
With this update, you can extend the value of your previous investments or replace other, outdated printers with these intelligent, automation-enabled devices, equipping your office with the modern benefits of a smart multifunction printer (MFP).
Work with Standley Systems to adopt RICOH Always Current Technology today
Ready to experience how modern multifunction printers can transform your business's document management and communication? Let Standley Systems help you upgrade your existing printers or replace equipment with RICOH Always Current Technology. Using an intelligent technology platform helps your staff work faster, keep your intelligent devices secure, and keep your business operations connected. Contact us to learn more.