3 min read
Managed IT Services in Tulsa That You Can Trust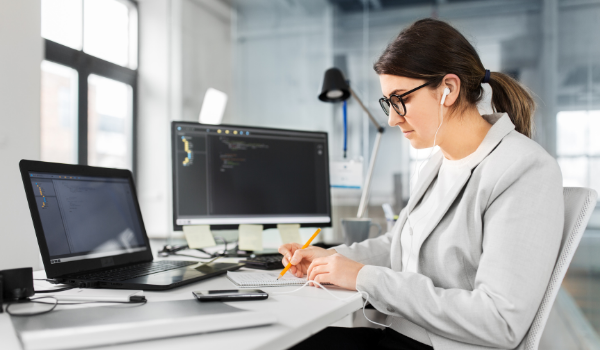 Standleys has been a part of the Oklahoma business community for more than 80 years. From our first store selling typewriters to our present-day information technology expertise, we are proud to help local businesses digitally transform so they can compete, grow and thrive.
We know what makes Tulsa businesses click. We shop at your stores, eat at your restaurants, and hire our staff from your local community. Our experts are proud to provide leading technology services that unite the community and connect it with the world.
Working with us means you have a trusted technology partner in your neighborhood. And our call centers aren't located overseas - we're just a phone call away.
Is your Tulsa-based business ready for managed IT services?
Technology is always evolving, and it's becoming more integrated than ever before. It's not something that can be ignored or delegated to someone in the office that's "good with computers."
Keeping up with the rapid rate of change can be a continuous challenge. Dealing with computer errors, maintenance issues, and having a room full of outdated equipment just scratches the surface of what problems can arise when tech issues are ignored.
Thankfully, managed IT services let you step out of that box and into the future - faster and with less infrastructure investment than you might have imagined.
Managed IT services lets small companies benefit from big business technology

Managed IT services give you the opportunity to outsource your technology operations to a specialist company. That means your small businesses can benefit from access to leading technology that helps cut expenses, optimize day-to-day operations, and increase productivity.
There are distinct advantages to working with a local provider that you just don't get with a large company like Amazon or IBM. We are committed to being a business partner and vital part of your company by offering services such as:
Remote monitoring
Remote network security monitoring ensures your company and client data is kept safe from hackers that constantly roam the internet looking for vulnerable networks. We also make sure your critical infrastructure like servers and hard drives are running optimally.
Help Desk
Our help desk will be there when you have questions and need support. We respond fast, and we do it efficiently unlike large call centers that route your call to several departments before your problem is solved. Our experts are also there to relieve your IT department from smaller issues so they can focus on important technology initiatives that add value to your business.
On-Site Support Services
If your devices have issues, we are a short phone call or drive away. Our expert team of friendly field service technicians is ready to help you repair or replace devices - from desktop computers and servers to printers, copiers, and phone systems.
Office 365
Experience the upgraded services of Microsoft Office 365 solutions - the backbone of email and productivity apps that keep your business running smoothly. We can help you choose the right mix of applications, manage licenses, and onboard new users. All your employees will have to do is connect online, log in, and get to work.
Cloud Solutions
Our experts can help customize bespoke cloud storage and collaboration solutions that increase productivity and improve collaboration while minimizing risks and costs. And you never have to worry about backups or disaster recovery - we have robust recovery plans in place that ensure your data is always secure and quickly restored.
Standley Systems Provides World-Class Managed IT Services to the Local Tulsa Community
You can trust Standleys to help bring your business up to speed with technology. We are honored to have served Tulsa businesses for generations, and look forward to being a trusted partner that will help your business succeed today and thrive for years to come.