5 min read
How You Benefit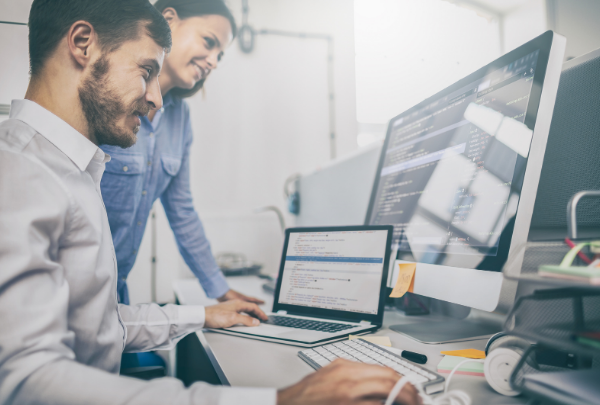 At the end of the day you look to technology to improve your organization. Standley Systems is committed to helping Oklahoma businesses, nonprofits, and government organizations maximize their use of technology to deliver tangible results.
When you choose Standley Systems you get a partner committed to helping you improve your business. With every recommendation, our professionals focus on improving your productivity, maximizing your security, and reducing your expenses.
Increased Productivity
Productivity is at the heart of everything we do. From consulting services focused on improving your business processes to the most productive technologies, you can look to Standley Systems to bring innovations that make you more efficient. All of this is backed by our legendary service experience. The net result: you improve your productivity and your profits.
Improve your productivity and you improve every aspect of your business. Employees are happier as processes run more efficiently. Customers get better support. Suppliers enjoy serving you. Best of all, profits increase as you do more with less.
Streamlined Business Processes
Every organization is comprised of people and processes. When you streamline the flow of information through your business processes, productivity increases. Our Business Transformation philosophy aims to improve the flow of information through your processes. You benefit from a comprehensive approach that includes your I.T. Infrastructure along with your Document Lifecycle. From office processes to production print workflow, we help your organization run more efficiently.
Software Integration
One powerful way to boost productivity is to integrate your systems. We can help you connect your CRM like Salesforce.com or Microsoft Dynamics to your legacy and line-of-business applications. We can also integrate Document Management software with your other software applications, giving your team instant access to the documents they need.
The Latest Technology
Technology drives productivity. From the fastest network laser printers, computers, and unified communication systems to on-prem and cloud servers we help you create a blazing fast I.T. Infrastructure. This extends to document scanning production with multifunction copiers for the Tulsa office and digital presses for production print environments. All of this works together to maximize your productivity.
Responsive Support
Nothing slows productivity more than technology downtime. You can look to Standley to support your business technology. Rather than waiting for problems to happen, we take a proactive approach, network monitoring print devices 24 hours a day through our Network Operations Center. In many cases, we are able to address issues before they become work-stopping problems. When on-site support is needed, our team of field service technicians responds quickly to get you up and running.
Reduced Expenses
In today's world of profit pressures, organizations need new ways to manage and reduce expenses. When it comes to your technology, there are many areas we can help you find savings.
We've been helping Oklahoma organizations manage and reduce their expenses. From savings in your print output or cellular data costs to leveraging the power of the cloud, there are many practical ways we can drive bottom-line savings.
Managed Services
There may be parts of your I.T. support that we could help with, reducing your need to grow your I.T. staff and keeping them focussed on core initiatives. IT Managed Services Tulsa and OKC organizations have available to them such as remote monitoring, helpdesk support, and Office 365 management can help you reduce your support expenses.
Printer Management
One often-overlooked area of cost savings is with laser printers. Our Managed Print Services program analyzes your current print costs and makes recommendations to reduce expenses. We then manage your fleet of printers and copiers in Tulsa and Oklahoma City with proactive supply fulfillment, eliminating the need to stockpile costly supplies. All of this is done with a predictable and transparent budget.
Communication and network Services
Mobile data, internet, and telephone line costs are an area where companies can save money. With Unified Communication solutions, we help companies eliminate the need for phone lines by leveraging their internet connection for voice calls. As an AT&T partner, we are also able to provide a comprehensive solution that helps our clients manage and reduce their cellular data expenses.
Asset Tracking
Many companies have no system in place to track I.T. assets like computers, servers, and network infrastructure. This leads to unnecessary costs and redundant systems. Our Asset Tracking services create a full inventory of your I.T. assets. This provides a system to manage and monitor these devices, helping you save money.
Tighter Security
We understand the importance of data security. We've structured our business to provide our clients with a comprehensive data security solution that starts with the network and extends through your laser printers and document storage strategies.
Data security is a hot topic in today's world of cyber-criminals and hackers. Every day, businesses, nonprofits, and government organizations are held hostage by cyber-crime. Breaches of confidential data can negatively impact your organization's reputation while causing unnecessary legal problems.
Network Security
Security begins with ensuring you have the latest firewall technology. It continues with a strategy to keep every device on your network updated with the latest security and software patches. Then, with IT managed services Tulsa and Oklahoma City depend on, our team monitors your network 24 hours a day from our Oklahoma-based Network Operations Center. All of this is aimed at maximizing your security.
Secure printing Solutions
One of the most overlooked areas of security is related to printing. Secure Print solutions require users to authenticate at the print device before documents are released, eliminating the risk of secure data sitting in public view on an output tray. Hard Drive Encryption on multifunction copiers helps ensure scanned documents are not accessible to the wrong people. Logs of print jobs by users provide a trail of printing usage to ensure compliance.
Document management Systems
Paper-based information stored in filing cabinets poses a substantial risk of theft. Electronic Document Management solutions allow you to store your key business information in a secure system. Only users with password-protected access can see documents. Usage logs help provide a documented trail for compliance or legal issues. When a document reaches its statute of limitations, we help you deploy processes to securely destroy the document.