8 min read
Healthcare Managed Print Services Reduce Costs and Boost Efficiency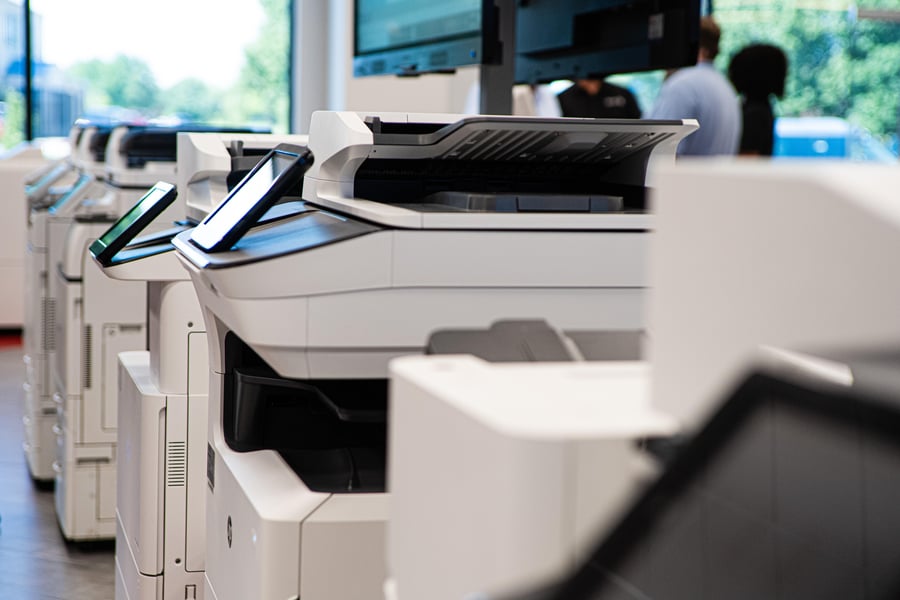 Electronic Health Records have become more common, but, out of a sampling of 1,000 medical providers, 44 percent still use paper records, according to recent findings from a Software Advice survey. For healthcare providers, security, privacy, efficiency, and printing costs all matter. And many still reach for paper because it's familiar, easy to use, and seemingly simpler than implementing Electronic Health Records.
Healthcare managed print services can make a big difference by centralizing the print environment and enhancing security and cost-effective printing. For many healthcare providers, managed print services are a must.

What Are Managed Print Services for Healthcare?
Managed print services describe the combined features and capabilities of centralized printed documents. In contrast, a non-managed, decentralized print environment is characterized by:
Many printers operating independently

Supplies like paper and toner not being tracked

Unmonitored data about print usage

Managed Print in the Healthcare Environment Means Managed Faxing
For many not in the healthcare industry, the idea of faxing documents epitomizes dated technology. But not so much for the healthcare professionals. Providers and offices often still use faxes frequently for:
Relaying medical information to insurance companies

Sending prescriptions

Sending patient charts and records

Transmitting patient information and records to other offices
Privacy and security are essential to document management for healthcare providers. Unlike most email services, fax is a HIPPA-compliant means of transmitting sensitive information. Faxing is also relatively easy to use.
All that faxing means printed pages and printer equipment, making healthcare managed print services essential. Even with electronic faxes, printed charts and records underscore the need for managed print to save money on paper and improve efficiency in offices that send and receive faxes daily.


What Printing Challenges Do Healthcare Organizations Face?
Printer fleets at healthcare organizations face significant challenges and burdens, and print infrastructure is often mismanaged and wasteful. For example:
Costly printing as a result of not tracking usage, supplies, and print data means that resources such as toner, paper, and electricity can be wasted

Device downtime can hamper productivity when machines go down and repairs are needed

Environmental sustainability suffers from wasted paper, ordering excess supplies, and keeping machines constantly powered up

Overburdened teams, from administrators to healthcare providers, do not have time or resources to deal with printer problems, maintenance, and supply changes

Data security and patient privacy are vulnerable in a non-monitored print environment
Healthcare managed print services can make printing practices confidential, secure, and efficient.

Why Choose Managed Print Services for Healthcare?
Healthcare organizations stand to improve efficiency and save money by revamping their print infrastructure. Print services for healthcare play a critical, if unsung, role that's key to healthcare providers' agility, flexibility, and productivity. So, why choose print services for healthcare? Here's a closer look at several benefits.
The Best Tools for Your Print Program
A hospital's or clinic's printer fleet might well be outdated or inefficient due to using old machines and outdated software. New printers might not be on the top of any facility's budget list, but old equipment takes a toll on efficiency and even patient care.
Healthcare managed print services better track and regulate equipment age and lifespan, usage, and upgrades. It's true that not every facility always needs the latest printers just to manage data security and printed documents.
But not having a proactive plan in place to upgrade, maintain and repair printing equipment is bad for long-term print usage.

Data Security Matters in the Healthcare Environment
Any pieces of technology and related processes that handle flow of information are open to security threats—that includes electronic documents, as well as printers and printed materials. Hard copy printed documents are at risk of falling into the wrong hands, inadvertently or not. Meanwhile, sensitive patient information is often contained within unsecured printer networks.
Managed print services can implement and enhance data security by:
Adding centralized security software to all printers

Automatically clearing hard drives and wiping sensitive information

Enabling login requirements and other means of authenticating print jobs to prevent the wrong person from picking up printed documents
Better Printing Improves HIPPA Compliance
HIPPA is a significant concern for healthcare professionals. Conforming to HIPPA regulations and managing patient privacy is paramount. Improved printing security and workflows can make conforming with HIPPA regulations both easier and worry-free.
Managed print services include a range of security features to enhance data security and ensure that all printers and linked machines are less vulnerable to cyberattacks or other leaks. Managed services can also regulate print usage so that hard-copy documents end up in the right hands only. Staying on top of HIPPA requirements requires ongoing effort and planning.

Managed Print Services Grow and Adapt to You
Managed print services provide proactive insight. As examples:
Individualized data about print usage and printed documents can be leveraged to see if printers are being used efficiently and located strategically

Supplies are automatically monitored to prevent abrupt paper and toner restocking requirements

Maintenance and upgrades happen on schedule as opposed to sporadically and reactively
These features demonstrate managed print's dynamic qualities. As your print environment and healthcare organization grows and changes, printing needs can adapt and grow too. Managed print services are ready to respond to change and growth, meaning you're prepared to roll with the ups and downs of the healthcare industry.
If you're trying to decide if or when to make the switch to managed print services, Standley Systems can help with a free managed print assessment to evaluate your print infrastructure and managed service benefits. Curious about learning more? Let us know.

How Managed Print Helps Healthcare Providers
Your print environment contains all the different interconnected copiers, printers, and computers. Even today, paper is still used for medical records and communications. But if you aren't using managed print, then you might be falling victim to inefficient and expensive printing processes.
Your print environment needs to be kept healthy too, and with the right managed print services, doing so is an automatic and automated benefit.
How can managed print be a cure-all for your paper and printing woes? Let's take a closer look.
Step 1: Experts Analyze Your Print Environment
Your needs and goals are unique, and they need to be treated that way. Managed print gives you the chance to meet with experts who will learn about your print environment inside and out. Then, they can help you cut out wasteful processes, make better use of your printer fleet, and organize your printed documents and workflows.
Step 2: Identifying and Applying Solutions
Managed print takes a proactive approach to problem-solving. Once a risk or problem is identified, you'll get solutions tailored to your specific workflow so that you're never compromising to improve efficiency.

For example, an analysis can point to slow printing speed or inefficient printer placement. Even slightly delayed or inefficient print usage can add up to big set-backs and daily hold-ups. Simply upgrading the print environment can improve business processes.
STEP 3: Making Security Plans
Security is especially important in the healthcare environment, and managed print comes equipped with data security protection, software to deter hacking, and password protection and other means of protecting printed patient records and printer tray materials.
How Much Does Managed Print Cost for Healthcare Organizations?
Statistics indicate that printing costs can take up between 1 to 3 percent of a company's total revenue. While costs vary between companies and industries, the healthcare industry prints plenty of medical records, patient information, and other material.

Adopting managed print services can mean substantial savings. Even with services fees and costs for new equipment, if needed, healthcare organizations tend to have substantial print usage. Therefore, savings that improve efficiency, provide precise paper and ink supplies, and reduce paper and energy wastes can really add up.

Common Misconceptions About Managed Print for Healthcare
Managed print services are all the same. Different service partners will offer different capabilities. A program that covers the extent and range of your printing equipment and can take responsive yet proactive steps to maintenance and service could be most beneficial.
Print is in decline. Even with the proliferation of electronic health records, healthcare organizations print plenty of papers. Expanding services, gaining new patients, and treating demographics with increased health concerns can all amount to more printed pages.
Our print environment is already efficient. Print costs and inefficient print usage can be hard to notice because losses are typically isolated and short-term. That is, taking an extra 30 seconds to wait for a printing job or needing half an hour to decipher a print setting can seem like small setbacks. Additionally, wasting a few sheets of paper every day seems like a small loss. But managed print services offer a long-term, big-picture solution. Reducing even small printing costs and boosting efficiency adds to big gains over time.

Ready to Find a Managed Print Provider? Standley Systems can help.
Our team has helped Oklahoma businesses learn more about managed print and has helped teams like yours select and get started with a print program that reduces costs, improves efficiency, and permits better patient care. Contact Standley to learn about how we can help healthcare professionals like you.