5 min read
What is Secure Electronic Document Storage and How Can it Help My Company?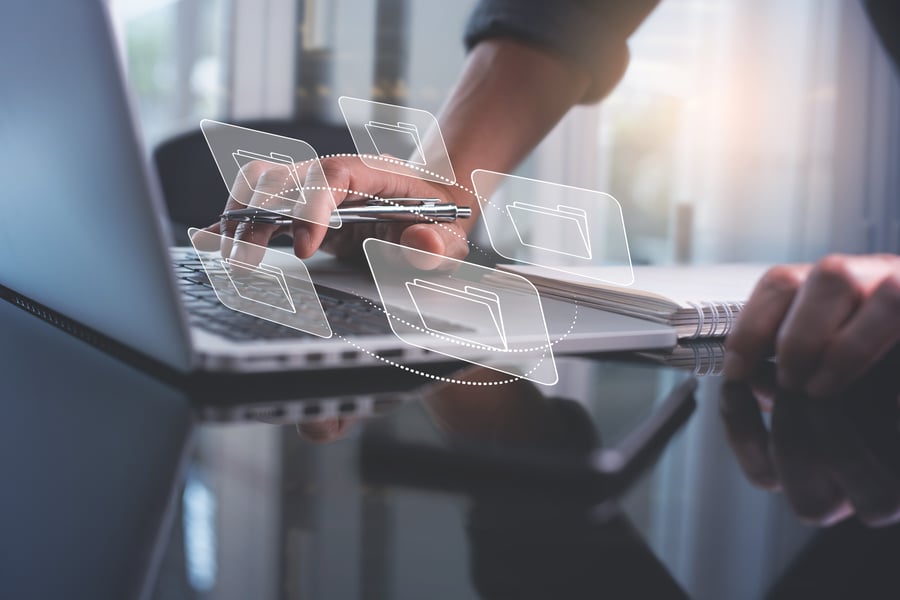 Document management systems encompass a range of features and functionalities, many of which are critical to effectively running a business. But many small to midsize businesses aim to go paperless or to reduce the amount of physical paper files and filing cabinets taking up space.
Document storage for electronic documents requires the right management system. If your business handles lots of documents, files, and folders, whether physical or digital, a cloud system for file sharing and file storage can enhance operations in so many ways.
Using Secure Electronic Document Storage to Improve Security.
Businesses generate a lot of data, so choosing a reliable, secure, and scalable document management system is key to streamlining and automating workflows. Digital documents secured within cloud storage, as opposed to paper documents, have been part of business practices for several years but can enhance security and streamline abilities in surprising ways.
The Basics of Online Document Storage
Online document storage provides a digital means of storing, locating, accessing, and retrieving documents and records that would otherwise be printed and stored physically. Instead of rows of filing cabinets, document management systems create an electronic file storage system that any user with permission can access and edit.
How Does Cloud Storage Actually Store Documents?
Digital files and documents are said to be stored in a cloud. Cloud storage involves saving and storing data and documents to an off-site storage system typically maintained by a third party.
This storage system is known as the "cloud," although it's really just a network of extra secure servers and databases meant to hold information. These servers are themselves computer systems designed to safely store and manage huge amounts of data. The internet provides a connection from your computer to the cloud.
Who Needs Online Document Storage and How Does It Apply to Businesses?
It's safe to say that most businesses can benefit from secure electronic document storage. Any and all businesses, from small businesses to large ones, will have to deal with digital files, file storage, and compliance requirements. Records management is simply easier, faster, and more secure when using electronic documents.
The Benefits of Online Cloud Document Storage
Storage – As its name implies, digital document storage provides plenty of space for storing documents, freeing up physical space from paper documents.


Collaboration Tools – Sharing physical documents requires time and travel. Document management systems and cloud storage let authorized users instantly and easily access documents.


Approvals and Signatures – Sending a document for approval or signature is a basic business function. Sharing and collaboration via cloud storage saves time. One user requests a signature, another user signs. A document management system can be even faster and easier than email.


Security – Some business files and documents simply can't be lost or stolen. Certain businesses have strict liability to protect information. Cloud storage offers added security because data is protected by a third party with more advanced security measures than most small or midsize businesses use.
Efficiency – Even the best filing system takes time to manage and store documents. A cloud-based document management system saves time by removing the need for document scanning, filing, and sorting.
Should My Business Make the Switch to Digital Document Storage?
While so many businesses can benefit from making the switch to digital file storage, it's still a service better suited to certain companies. Ask yourself these questions when considering cloud storage for files and documents
Does my business generate large amounts of documents and data?
Am I responsible for storing sensitive data regarding customers, other businesses, or employees?
Do I have to regularly share or relay sensitive data?
Do I spend a lot of time filing, making copies, scanning, or otherwise managing paper documents?
Do I have a system in place for securely storing and relaying documents?
Do I have to regularly email or mail documents and sensitive information instead of relying on a more secure system?
Do I have filing cabinets full of documents and information that's important to maintain indefinitely?
Answering these questions can help point you toward the need for a digital document management system. If you accrue few documents and handle limited sensitive data, you might not need a cloud-based system.
Choosing a Document Management Provider
The Right Questions to Ask
If you've begun looking for an electronic document storage provider, options abound. While you can read about providers' services, be sure to ask questions about their services and offers, as well when you interact with their sales team.
Ask a potential cloud storage provider about their performance and availability. What is their response time and load time? How do they allocate resources across different servers to improve efficiency? Do they use industry standard encryption for their security processes?
Electronically storing documents should be about making your life easier. So ask about how user-friendly a storage system is and if non-technical staff can easily learn and use the system.
In terms of service, ask any questions about services listed. Who can help when questions or problems come up? Are the policies in line with the compliance requirements of your business? How does disaster recovery work if your data is ever compromised?
Signs of a Great Electronic Document Management System
Document management software should:
Automate workflows to increase efficiency
Allow for document consistence
Improve compliance by easily facilitating documents
Enhance security through cloud storage
Allow for ample digital storage space to accommodate numerous documents
Be easily accessible, usable, and learnable
If you're needing assistance figuring out which secure electronic document storage provider is right for you, Standley is here to help. The information technology experts at Standley Systems offer a free consultation to evaluate digital transformation needs. Contact our team for more info.
Improving Your Electronic Document Storage Security
Some of the basic steps toward better digital document security include:
Password Protection – Password protection means that documents, files, and entire sections of business data are restricted only to those who need access, therefore reducing the opportunity to be copied.
Secure Cloud Storage – Cloud computing is safer than hard drive storage because you can control who gets access to your data when, and from where. Those details mean that nothing goes unnoticed.
Risk Management – The digital office makes it easier to manage risks by allowing multiple proactive solutions for staying ahead of data hacks like software updates, network protections, and encryption.
Restricted Access – In addition to password protection, all of your data is restricted from those who have no business accessing it. Control who sees anything your company stores with high-level security.
Standley Systems Knows Security
Secure electronic document storage is of growing importance and use among so many businesses. If your business is ready to make the switch to cloud storage systems or needs to find out more about options and features, Standley Systems can help.
We offer services, products, and expertise on document management systems, cloud storage, and security. We've helped plenty of small and midsize Oklahoma businesses to operate more safely and efficiently after implementing digital storage and security solutions.
We'd love to help your business too. Find out more about what we provide and how we can work together.