2 min read
Scarlett Frank Achieves Multiple Production & Creative Certifications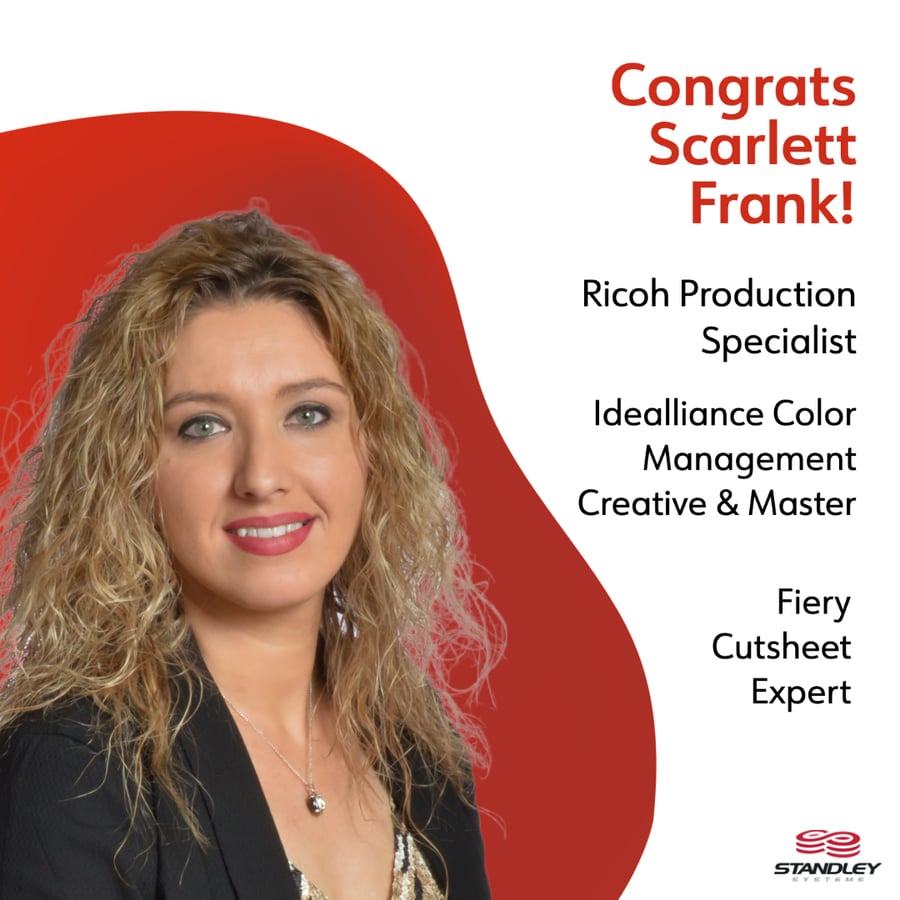 Team Standley is made up of some of the most innovative and bright people. Scarlett Frank, Account Executive for southwest Oklahoma, doesn't just provide clients with technology to help accelerate their business and processes but has a wealth of knowledge in production print and IT services. When she isn't helping her clients or serving her community she's putting in the time to learn new things and greaten her knowledge in and of technology.
We are so proud of all she has accomplished this year, specifically her newest certifications. Her forward thinking and ability to embrace and drive change is unmatched.
Check out the list of certifications she's achieved in 2022.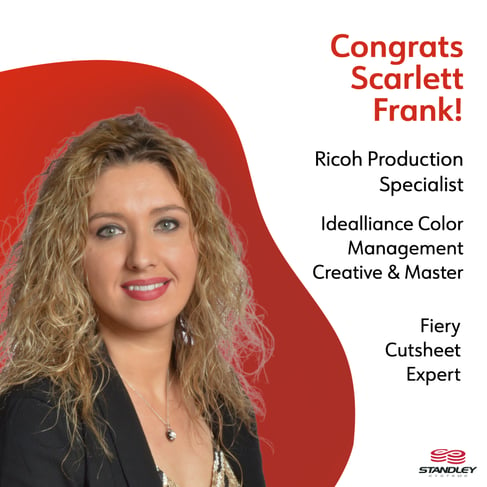 Fiery Certified Cutsheet Expert:
Fiery® Expert Cutsheet Certification is a comprehensive technical training on Fiery servers, tools, features, and software options — teaches essential skills you need to optimize your workflow, increase efficiency, and produce outstanding color prints.
Ricoh Production Solutions Certification - Expert v3:
Going beyond the basics of Ricoh products, the EXPERT level certification provides participants with the confidence to engage with customers on color and workflow issues in order to better tailor solutions to customer needs
Idealliance Color Management Professional Creative:
A Certified Color Management Professional Creative has proven proficiency in the principles and best practices associated with color management implementation in a graphic communications production environment.
Idealliance Color Management Professional Master:
This is the highest level of color management certification and is for the industry professional who wants to be recognized as an expert in color management. To achieve this designation, you must demonstrate a thorough knowledge of color management in a graphic communication production environment.
Benefits of Being a Color Management Professional:
Improve Color Accuracy
Assure Brand Color
Build Color Managed Workflows
Control Image Color
Maximize color quality
Scarlett we are so proud of all you've accomplished! Thanks for making #TeamStandley great!