4 min read
Production Printing Systems Deliver High Speed and High Volume Printing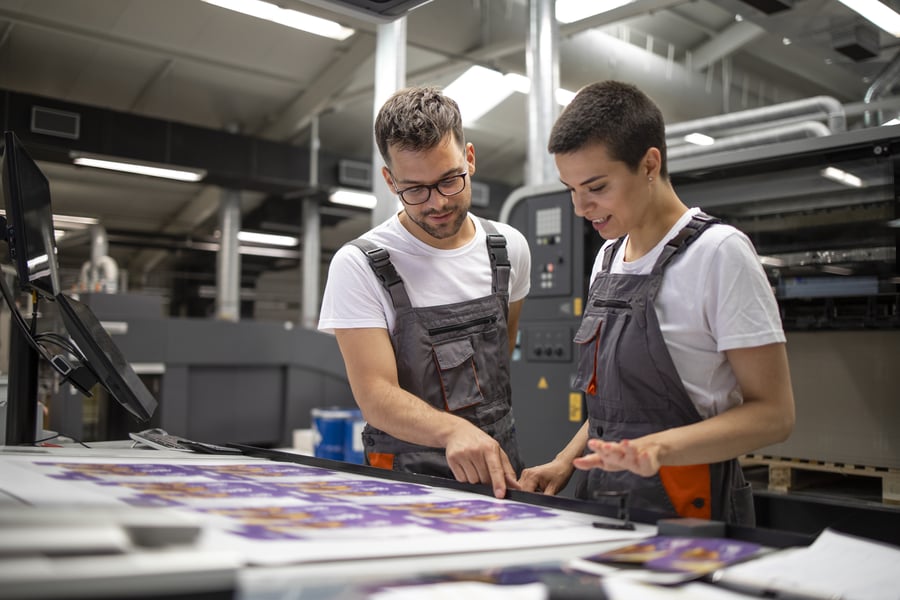 Printing continues to be a vital component of business environments. Despite all the predictions we heard decades ago, the business world still hasn't gone fully paperless, because paper has the power to transform and relay ideas that endure over time.
Yet printing isn't a one-size-fits-all service. Companies can benefit from production printing systems when high speed and high volume quality prints are needed. That means how you print can matter as much as what you print.
The Practical, Timeless Benefits of Print
Digital media and information are everywhere today. But print persists because it's impacting, effective, and high quality. Here are just some of the advantages of print.
Printing creates tangible assets.
Humans are served some 6,000 to 10,000 digital ads per day. Honestly, most are forgotten or ignored.
Print is another story. When you print brochures, publications, posters and business cards, you are creating a physical item that can remain in your client's hands for weeks, months, or even years. Readers often spend 20 minutes with a print publication but only seconds or a couple of minutes on a website.
The benefits of creating physical marketing materials extend far into the future and can create long-lasting imprints on prospects and clients.
Print media is more engaging.
Turning the pages of a brochure fosters sensory engagement. Websites can be skimmed in seconds, but a high-quality printed item commands more attention and engages audiences on a multi-sensory level.
People trust print.
Print has been around for a long time. Therefore, it's a trusted medium because it's more permanent, engaging, and credible, especially given the abundance of fake or misleading online ads.
Production printers and commercial printers: what's best for you?
Printed products share some universal benefits, but the methods of achieving that outcome vary. Depending on your need for high volume quality prints, lower cost, or specialty print applications, you have different choices of print service providers and methods.

Here's a closer look.
Production Printing vs. Multifunction Printing
Needing high volume printing versus a wide variety of printing services could underlie your choice in printing systems.
Multifunction printers are great for small businesses that don't produce a lot of creative or business content. These machines combine copy, print, scan, and fax capabilities all in one unit that doesn't take up much space.
A production printer, however, creates high volume quality prints at high speed, perfect for direct mail and other businesses and services focused on the print environment. Production printers also produce exceptional image quality and can print posters, brochures, booklets, and other media beyond mere documents.
Inkjet vs. Laser
Print technology is a crucial point to consider when choosing a printer. Inkjet printers are ideal for smaller organizations that prioritize quality over quantity. Accordingly, some cut-sheet inkjet devices, such as the AccurioJet KM-1 from Konica Minolta, have their place in some niche industries.
Laser printers, on the other hand, are undoubtedly the most economical choice for high-volume jobs. Benefits include increased speed, reduced banding and streaking, and fewer paper jams.
How does business size and industry affect which commercial printers I need?
Production printing systems and printers with a range of applications are best paired to businesses with either high volume printing needs, specialized printing needs, or both. If you need to decide on the best printing system suited to your business, let the experts at Standley Systems find print applications that are a good fit for your company's needs.

Large businesses, high-output creative agencies, and organizations with substantial printing needs can leverage high-speed digital printing systems that combine basic features with workflow software for advanced performance.
Production printing has you covered from large-scale poster creation to the production of extensive legal documentation. It enables your organization to create a wide range of high-quality printed materials of all sizes and shapes quickly and efficiently.
How Production Printing Solutions Can Benefit Your Business
Production printing gives you top-quality prints.
No matter how complex, colorful, or detailed, production printing gives you consistent results without sacrificing quality for efficiency and speed.
Production printing is flexible.
With a wide variety of color management settings, finishing options, and high-speed job management possibilities, production printing enables a wide range of printing capabilities.
Production printers save money.
Besides providing efficient, fast, and reliable printing, production printers are cost-efficient over the long term because they can reduce production times and labor requirements.
Does printing have you in a jam? Contact Standley.
Selecting the right production printing systems and investing in commercial printers should be considered carefully. Whether you're printing in-house or working with a printing service, it's critical to make informed choices.
Getting a managed print assessment with Standley Systems can ensure that you have a firm grasp on your printing needs, volume, and associated costs. We can help you determine the best production printing systems for your needs, along with other print production options as required to help you and your business advance.
---