3 min read
Your Trusted Managed Services Partner in Oklahoma City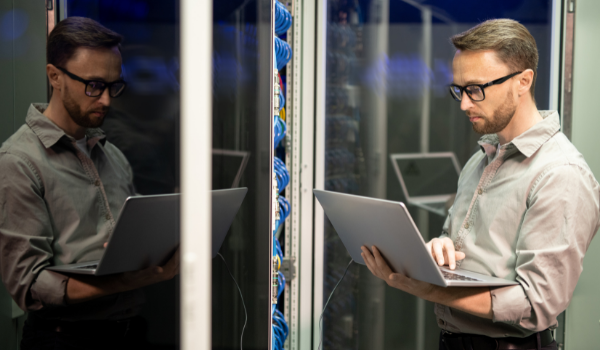 At Standley Systems, we take our role in the community seriously. For more than 80 years, we've been offering information technology services to small and medium-sized businesses, and are proud of the progress our clients have made throughout the decades.
When it comes to IT managed services, we know you have choices. Some are located across the country, and others are located across the world. All might offer similar products, but few can give you the same level of service that we enjoy here in Oklahoma City.
Standleys provides customized IT managed services that fit Oklahoma-based businesses
When you have computer errors, failing equipment or security issues, Standleys is just a phone call away - not in a call center across the world. Our expert team of friendly field service technicians live, work and shop in the community. We are a part of Oklahoma City and understand the unique needs of Oklahoma City businesses.
Working with a local provider like Standleys provides distinct advantages over working with a large company like Amazon or IBM. That's because we understand that outsourcing your IT means you are trusting us to run an essential part of your small business - and we take that responsibility seriously.
Are you ready for Managed IT services?
Large companies with deep pockets can afford a team of in-house experts. All the rest might be at a competitive disadvantage because technology never stops evolving, and it's challenging to keep up.
That's why cost-effective managed IT services make sense for smaller and medium-sized businesses. When you outsource part of your IT department to a specialist, you can access world-class infrastructure and software development at a reduced cost with minimal hardware investment.

Standleys offers a variety of managed services for businesses of all types and sizes. Our experts can build custom technology solutions that include:
Remote monitoring
We provide remote monitoring of your computer network that ensures your company and client data are kept safe from cybercriminals. Our systems are also on alert for hardware problems, so your entire network runs optimally with minimal issues.
Help Desk
You can count on our help desk to be there when you have questions or need support. We are located in Oklahoma City, in your time zone. Whether it's hardware, software or network issues, our staff is qualified to assist you when you need help, and are just a phone call away.
On-Site Support Services
When equipment fails or needs repairs, our friendly team of technicians is just a short drive away. We respond quickly to fix or replace devices, so your systems are back up and running with minimal delay.
Office 365
Microsoft Office 365 solutions can help optimize almost every operation of your business. Our experts can help you choose the right combination of software, manage licenses, and onboard new users.
Cloud Services
We offer cloud computing solutions that will improve collaboration and facilitate data storage and file sharing. Our solutions ensure that your data is securely stored on the cloud and regularly backed up at our data center.
Standley Systems is your trusted Oklahoma City Managed Services Partner
You can trust Standleys with your managed services needs. We have been servicing Oklahoma businesses for over 80 years and are committed to the continued success of our community - now and for generations to come.