3 min read
Financial Services Document Management: An Essential for the Industry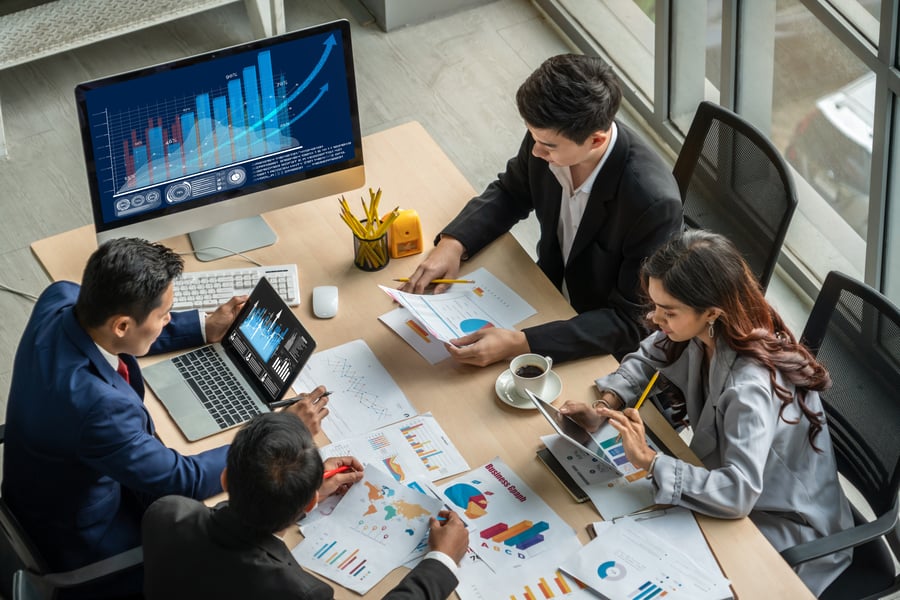 Every company in the financial services industry deals with sensitive documents and financial services that need to be kept private, well-organized, and well-managed. Doing so requires the right technology, specifically electronic document management.
Financial services document management reflects the tools and abilities needed to keep documents, data, and information secure and well-managed. Such management software is essential to financial institutions, as explored below.
Electronic Document Management Using DMS and ECM: Know the Differences
Content and document management software often involves document management systems (DMS) and electronic content management (ECM) systems. DMS refers to the software and system used to manage and organize documents. Similarly, ECM can manage documents as well but also includes abilities to secure, share, index, and perform other advanced features involving documents, data, images, and other information.
However, risk averse industries, like the wealth management industry, can benefit from the added features and security of an ECM system.
Financial Document Management Solutions for the Industry
Document management software is important to investment services and the financial industry more broadly because, plainly, much is at stake and information moves quickly. Being organized, able to collaborate, and compliant are essentials for financial services firms.
Efficiency and Organization
Financial document management still often involves paper documents. But to reduce costs and improve business processes, it's past time to digitize financial documents. Digital documents can cut down on labor and time spent on manual processes like filing and managing paper. Sharing becomes more efficient and adding security layers like password protection is possible digitally.
Enhanced Collaboration
Being able to quickly and easily share financial documents is pivotal to any wealth management company. Teams need to collaborate and strategize. A document management system includes ways to quickly share and grant access to documents that's faster and easier than sending email attachments or relaying paper documents.
Regulatory Compliance
For the financial services industry, regulatory compliance matters. Compliance standards must be upheld by law in some cases, and financial services must impart trust with customers. A DMS can include alerts and automatic features that improve and check for compliance within electronic documents.
SEC Compliance – The SEC issues key accounting guidance on financial statements and operations pertaining to federal requirements.
FIRNA Compliance – Compliance for registered broker-dealers handling reports, records, and other financial documents and information is required. DMS can enhance and streamline recordkeeping and keep data secure.
State Audits – States can independently assess financial operations to ensure compliance and review performance metrics while checking for any issues or improprieties.
Standley Systems can help your financial business meet compliance standards through use of a DMS. Learn more about this process by speaking with us.
Managing Financial Security
DMS and ECM platforms include enhanced security features like password protection, file encryption, and access limitations. Cloud-based backups of data and information are also part of a secure document management system and working with risk management.
Third-Party Financial Systems Integration
When implementing a new DMS or ECM, there are often concerns about how a system will integrate with other electronic document management platforms. While the extent and ease of integration can vary depending on the system, most leading third party systems can integrate with departmental systems in order to store and search documents, among other abilities, using a new DMS or ECM.
Client Management
Wealth management can put pressure on both representatives and clients who want to increase returns. However, it's important to keep clients informed about original agreements and expectations.
Using a content manager, financial services firms can easily recall a client's original agreements, notes, and other details that can help remind clients of past conversations and details while demonstrating due-diligence.
Why Do Financial Institutions Benefit from Document Management Systems?
It's clear that the financial services industry must negotiate compliance requirements, managing paper documents, and secure use and sharing of financial data. At its core, a DMS enhances these processes by improving the efficiency and ease at which related tasks can be performed. Further, added features like enhanced security and back-up also benefit financial services document management.
Standley Systems Knows Financial Document Management
If you're unsure where to start when it comes to selecting a DMS or ECM or knowing which features to look for, our experts can help. Standley's team has helped numerous types of Oklahoma businesses, including financial service providers, to find and implement the management software that they need.
Given the pressures and demands of financial services, the right document management solutions can only make your work better and easier while potentially improving results. Contact Standley today to find out more about what we offer.