3 min read
Executive Spotlight - Tim Elliott and his vision to put Chickasha on the map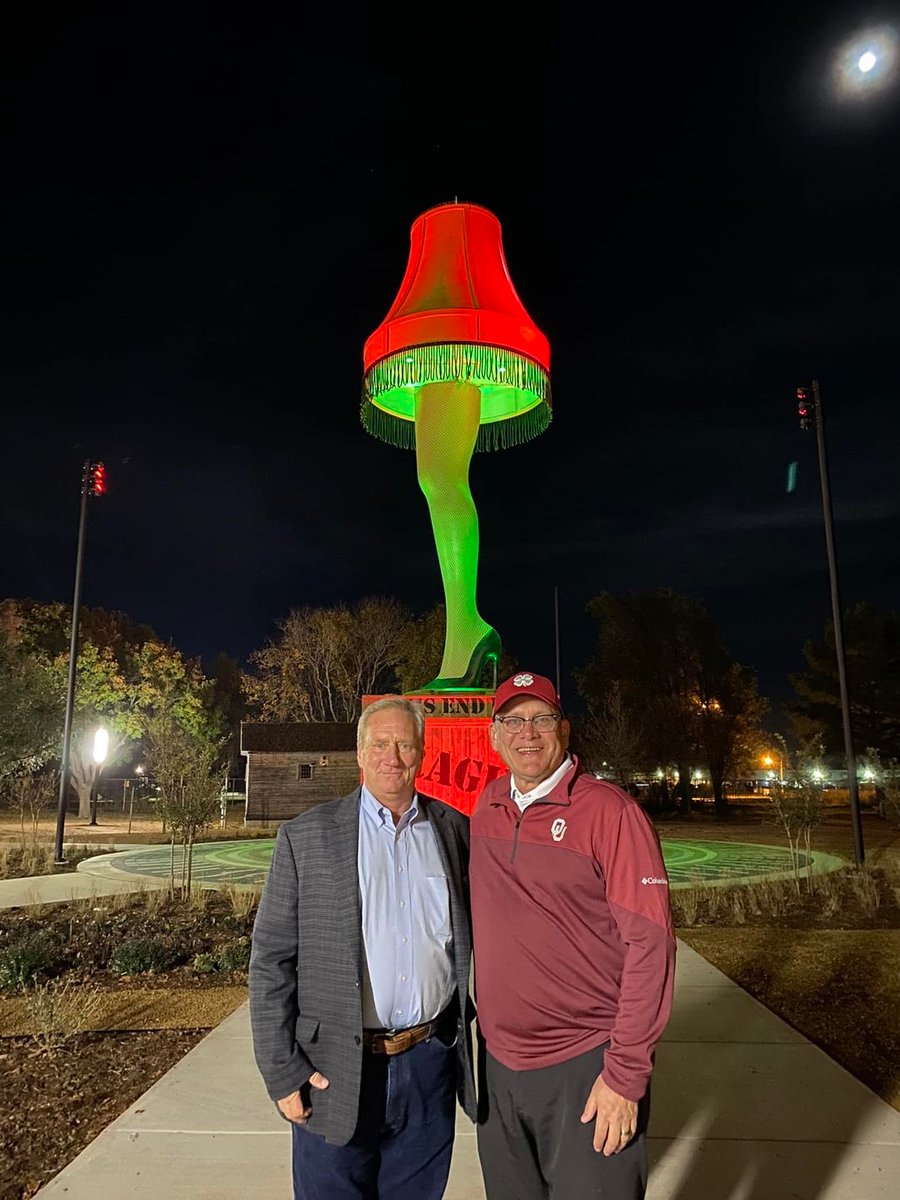 What does it take to be a visionary? Focus, drive, persistence, innovation, courage and passion, these are all qualities that we have witnessed first hand from our own CEO and Visionary, Tim Elliott.
Tim Elliott has been a part of the Chickasha community all his life and is passionate about his community. His visionary mindset and love for Chickasha have always been at the forefront of helping continue to make Chickasha a great place to work and live.
Tim's passion fuels his pursuit of new ideas and innovative ways of putting Chickasha on the map. So, after a family road trip to Alaska he was inspired and ready to help rebrand his community. During the road trip, he happened to find himself in Winslow, Arizona. And you guessed it, while passing through he stopped to get a picture with the man standing on the corner in Winslow, Arizona.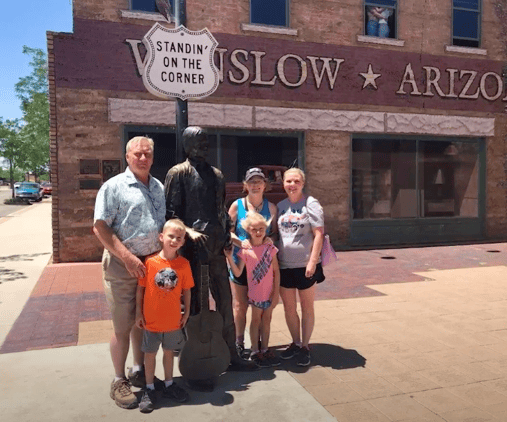 As he watched people flooding to take their picture with this landmark he noticed the impact it was making on local restaurants and shops in the area, and then the wheels started to spin on how he could bring that same type of impact to his own community.
He started thinking about how to bring people to Chickasha year round and what Chickasha is known for. In the past Chickasha had been known for their passenger train and being the horse trailer manufacturing capital, but those things had since faded. As a true innovator Tim said, "we can't look at the past or we will miss the future."
What if Chickasha had an attraction that brought people to town year round and had a positive economic impact. Thus, at a city rebranding brainstorming session Tim threw out the idea of building a 100 foot leg lamp to resemble the one in "Christmas Story" to light downtown and to bring people from all over the world to Chickasha year round.
So why "Christmas Story" and the leg lamp? In 2013, Tim watched "Christmas Story" for the first time. He played the movie on repeat for several days and was captivated because he felt like he could see himself in any of the characters. It just kind of stuck with him. So much so that people at work started to bring him Leg Lamp memorabilia, like this homemade Leg Lamp Christmas Sweater.
The 50 foot leg lamp will be a great addition to the current Festival of Light. During the Christmas season, over 200,000 people flood to Chickasha to see the light display.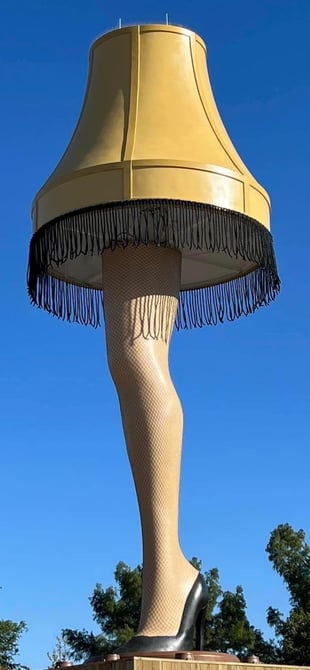 Now visitors will have the opportunity to make a night of it and enjoy strolling through restaurants and shops downtown before or after touring the lights, giving visitors a chance to support the city by eating and shopping locally.
Not only during the Christmas season, but after it is lit in the initial lighting ceremony, Saturday, November 5, 2022, it will be a year round fixture to bring tourism and a positive impact to the community. The lamp is part of a privately funded park that is being developed at the east end of downtown.
"I can see calling my six kids telling them to bring their wives and all of my grandkids down there so that we can meet at the park and eat and play games." Tim said.
At the end of the day Tim Elliott just wants to see Chickasha on the map, as a fun, successful and thriving place to live and work. Tim noted, "We have poured our life, soul and money into trying to make Chickasha a place where you would want to raise and grow your family."
Visitors and Chickasha residents flooded the streets of downtown Chickasha, November 5th to be a part of the lamp lighting ceremony, where Lieutenant Governor Matt Pinnell participated in the lamp lighting ceremony. There was also a special performance following the lighting by the Imaginaries.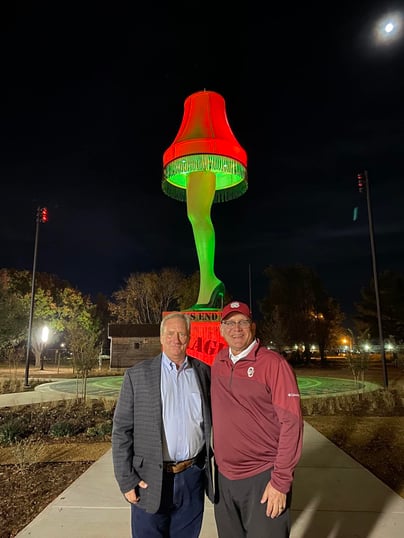 Tim Elliott and Gary Haggard, Standley Account Executive, enjoying the lighting ceremony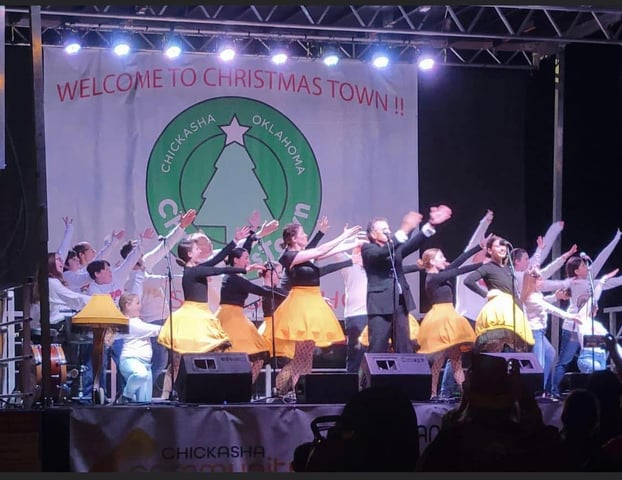 Chickasha Community Theater with a special performance at the lighting ceremony