8 min read
How to Find a Good Cybersecurity Service Provider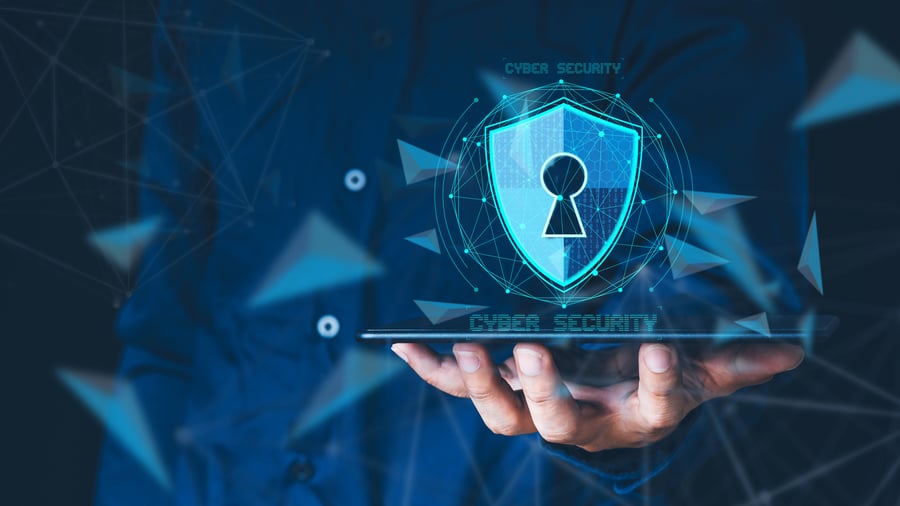 Digital applications, cloud storage, and data management tools are important for maintaining a competitive advantage today. Businesses like yours need strong cybersecurity strategies to keep their business functional. To move past functionality, your business should consider outsourcing to a reliable cybersecurity services provider to rely on valuable expertise that can keep your business efficient and ahead of the curve.


When it comes to defending your network, maintaining your infrastructure, and assessing your risk management strategies, a managed security service is your strongest ally in the fight against cyber threats. Network security has never been more of a priority. With the advent of artificial intelligence, machine learning systems, and tenacious hackers with the latest tools, your business and the data it houses is in jeopardy.


That's where a managed services provider comes in. Information security, intrusion detection, and data breach prevention is their top priority. An ideal provider can use proactive strategies, the latest cybersecurity devices and systems, and rapid incident response to take care of your security threats. Outsourcing a service like this is vital to keeping your personnel focused on their tasks instead of taking up valuable time with training, new systems, and constant maintenance.


Having the best combination of staff expertise, information security (infosec), and IT solutions can be difficult for growing businesses. Scalability, growth, and constant technological change is a tough combination to maintain. A managed security provider can help your business fill those skill gaps, defend vulnerable access points, and retain current information security approaches. With the constant amount of change occurring in software, processes, and the systems that protect them, it can be a full-time job just staying up-to-date.


Learn more about how your business can assess a provider, choose the right partner for your needs, and find one that may be specifically helpful for your current information systems and any industry requirements you may need. Every business is different, but there are certain qualifications and redeeming characteristics that can set an exemplary service provider apart.


Learn more about how your business can assess a provider, choose the right partner for your needs, and find one that may be specifically helpful for your current information systems and any industry requirements you may need.
What is a cybersecurity service provider (CSSP)?
Cybersecurity service providers (CSSP) are in the business of being external cybersecurity providers for other businesses. These providers contract out security capabilities that are expensive, time-consuming, and technologically-advanced to businesses without advanced IT capabilities. CSSPs provide security operation centers, equipped with technology and experts, to businesses who do not have the capital to fully fund them. By alleviating the time, supply, and cost burden, ideally CSSPs allow businesses to focus on their objectives instead of regular maintenance.
Equipped with security experts and the latest technology, CSSPs provide remote and on-site informational technology (IT) assistance in lieu of a company staffing their own IT department. They also allow an IT department to focus on company technology management instead of cybersecurity and threat intelligence. With tools like data centers, off-site cloud management, and IT experts, CSSPs are like a fully functional IT department that's at your service to manage security needs and monitor for network threats.
As data hacking and cybersecurity skills become more prevalent among cyber criminals, information security has become a necessary field of security for companies that handle personal health, personal identification, or sensitive financial data. CSSPs are capable of constant threat monitoring, managed detection and response, and regular evaluation of the threat landscape posed to a business. Cybersecurity is their priority for every business they support.
CSSPs can provide security services such as:
Vulnerability analysis and assessment

Network security monitoring

Intrusion detection

Incident response and remediation

System auditing

The U.S. Department of Defense (DoD) offers CSSP certifications for specific job roles, which ensures that CSSP staff are trained and evaluated on specific IT security services.
Why Use an External Cybersecurity Service Provider
Partnering with CSSPs gives businesses the freedom to allocate their resources where they need them most. When not worrying about vulnerability management and security monitoring, your IT department (or valued employee) can go back to fulfilling their day-to-day functionality that keeps the trains running on time. Security is a full time job, but so is their job. This way, small to midsize businesses have the advantage of a large IT department without having to staff one. Scaling security protocols and implementing them can be expensive and time-consuming. A CSSP lets you have your cake and eat it too.

Businesses can use a CSSP instead of:
Relying on in-house personnel to develop long-term and agile security strategies.

Spending valuable time, money, and resources to recruit and hire IT professionals (especially if you live in a region with a competitive hiring market).

Incurring the costs involved with training and retaining highly-paid security professionals.

Developing and constantly maintaining the prevalent cybersecurity systems and tools required to equip a fully-functional IT department.

Businesses don't have the luxury of avoiding cybersecurity standards. Regardless of if they can afford the cybersecurity protocols required, across industries, companies face pressure to meet strict security and compliance standards like the Payment Card Industry Data Security Standard (PCI DSS).
Organizations without adequate security infrastructure, even if they're just the result of malicious activity, are still penalized for inaction or ineffective response.
Beyond payment processing requirements, companies in the United States are bound to industry-specific security and compliance standards, too. Fields like medicine, financial services, and government contractors all require their systems and security standards maintain compliance with the latest rules and regulations. Whether it's your local university or the hospital down the street, there are several laws and standards that must be met. With penalties like fines and legal action, businesses can't afford to be lax when it comes to rule-following.
Organizations without adequate security infrastructure, even if they're just the result of malicious activity, are still penalized for inaction or ineffective response. With the threat of fines and loss of valuable contracts, cybersecurity is a highly lucrative business. CSSPs can help businesses maintain lawful and modern security measures in a much more cost-effective way than internally. Having the strategic foresight and awareness to partner with a CSSP can also be a key competitive differentiator when pursuing contracts or clients. In realizing that you prioritize your business and your client's security posture, your business will only look more appealing.
A managed cybersecurity services provider (MCSP) can alleviate operational and security burdens even more than the use of a CSSP. MCSPs provide services and support from IT experts. These services can help your business implement a cybersecurity infrastructure and maintain it while keeping up with ongoing digital transformation. By keeping their finger on the pulse of changing industry regulations and maintaining constant threat detection, your business's operations are secure. This will reduce the potential for unplanned downtime, risk, and damaging costs.
What to Look for in a Cybersecurity Service Provider
Once you've determined you need managed cybersecurity services, choosing a provider that's right for you is still a challenge. Though you're considering using an MCSP for its cost-effective nature, price is not the only important consideration. You may find several fairly-priced service providers and still have to choose between them.
First and foremost, you need to make sure the services you're paying for effectively protect your systems, network, and data. Customer data loss prevention is key if you're handling sensitive information with your networks. Follow these tips to find a reliable cybersecurity provider to meet your business's needs.
Standards and Compliance
When evaluating any service provider, determine which infosec standard their solutions and services adhere to. If you operate in a highly regulated industry like financial services, healthcare, or education, the IT solutions of your provider need to be stringent when it comes to compliance. They need experience implementing IT processes that meet relevant security and compliance standards, so the more experience they have in your industry, the better.
Select a security provider with documented experience complying with your specific industry. Be sure they have auditing policies in place for third party vendors to ensure all security operations centers (soc) and security solutions from other vendors are compliant. This ensures you're getting the information security, system and data availability, and data confidentiality you're paying for. Processing integrity and vulnerability management are also crucial components for any security provider.
Research each provider's incident response and track record
When assessing any service provider, inquire about their approach to incident response. Don't let their word stand on its own though - conduct additional research. You can research publicly available information on past security incidents, ongoing or past legal proceedings, or customer testimonials that deal with this topic.
Pay close attention to whether they have documented experience in your industry. Do they have successful current partnerships with comparative businesses?
Pay close attention to whether they have documented experience in your industry. Do they have successful current partnerships with comparative businesses? If they support businesses similar to yours, that is evidence they are equipped to handle security needs much like yours. Clients, contracts, and customers (past and current) speak volumes as to their capabilities.


Consider your digital transformation priorities
Think about where your business will be in two, five, or maybe even ten years. All your cybersecurity and IT services should be scalable so growing doesn't cause unnecessary strain on your business. Many organizations are considering digital transformation efforts, if not implementing them already. The provider you select should use security protocols and systems that can scale and adapt to changing business needs. As your IT infrastructure and applications change, so should your security protocols. After all, security from just fifteen years ago has been rendered obsolete and replaced with cloud security protocols. Prioritize a provider that emphasizes agility and is constantly learning and adapting.
Modernizing and integrating current infrastructure poses a high security risk. During the process, your data and systems are vulnerable. Your cybersecurity provider should have a strategy in place to implement security monitoring and threat assessment during such a crucial time. When selecting your provider, determine if they have supported other clients during their digital transformation. If they have, they should have adaptive plans that can be customized to your business's needs. Ideally, they are prepared to safeguard your systems, backup data, and migrate workloads and information from on-site servers to the cloud, or between cloud platforms.


Trust Standley Systems to be your cybersecurity service provider
Standley Systems has the security consulting and expertise capabilities to strengthen your cybersecurity posture, prepare your infrastructure for scale, and meet constantly changing security needs. You need agility, reactiveness, and support in a CSSP. Trust Standley Systems to protect your data, secure your network infrastructure, and prepare your technology and your business for the future. Under the threat of cyberattacks, data breaches, and stringent industry compliance, Standley Systems is the ideal partner to manage your cybersecurity needs.
Our team is made up of experts with experience providing high-quality, reliable cybersecurity support to a wide range of industries. Healthcare, education, the public sector, finance, you name it, Standley Systems has provided vital cybersecurity expertise for industries that deal in sensitive and protected information. See how our managed cybersecurity needs can help your business succeed. Contact us today!