6 min read
Cybersecurity essentials business owners and managers should know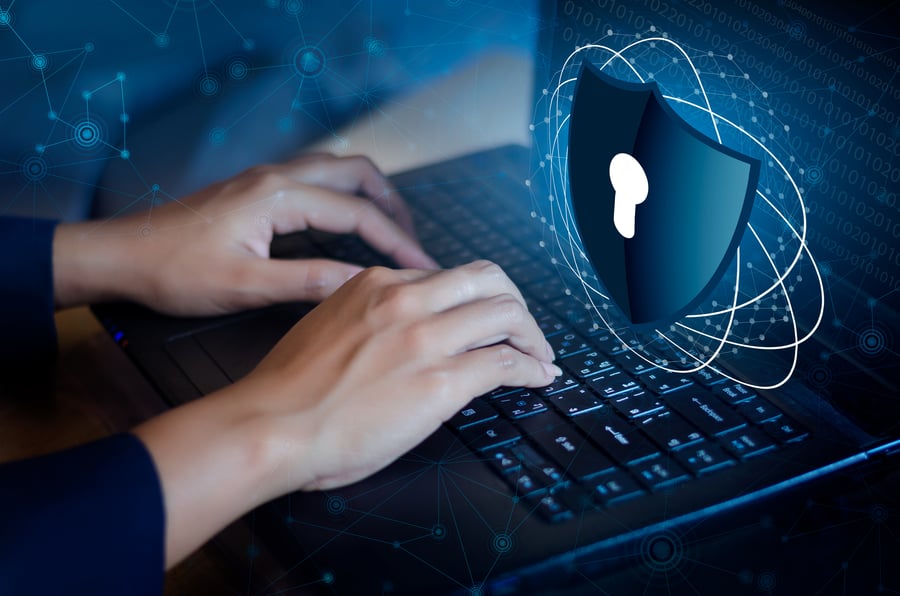 Across every industry, business leaders are taking advantage of advanced software and IT solutions to transform their organizations.
And in any digital transformation, businesses generate proprietary data that are essential to managing customer relationships, adapting to industry demands, and maintaining a competitive advantage.
Your business needs a comprehensive cybersecurity strategy to protect sensitive data that drives modern business — the same way that you would invest in physical security for valuable equipment.
Learn the cybersecurity essentials you and your team need to know to protect your IT systems and networks against data breaches and cyber attacks.
Cybersecurity concepts and terminology to know
This introduction to cybersecurity concepts and terminology will help prepare you for the first step to developing a strong security strategy: identifying the cyber threats and security risks most likely to affect your business and industry.
Make sure you understand key concepts and terms like:
Access control — implementing policies to limit authorization to see and use protected data to specific, authenticated users.
Encryption — applying mathematical algorithms to encode information so that it can be password-protected and securely stored and transmitted. Encryption can also be used by hackers who will encrypt your data and hold it hostage unless you pay them.
Malware — code introduced to protected systems to compromise security measures or grant unauthorized access, examples include viruses, ransomware, and Trojan horses.
Social engineering — using manipulative or deceptive tactics to obtain sensitive information from users.
Penetration testing — an approach to testing a system or network's security to check for potential vulnerabilities.
Essential cybersecurity principles to understand
While IT security threats are always evolving, there are essential cybersecurity principles you and your team can and should learn to defend your networks and control access to sensitive information.
Broadly, these security principles, technologies, and procedures can be categorized into the following four categories:
Governing: Identifying and managing security vulnerabilities to make the best use of IT resources while minimizing security risks.
Protecting: Implementing security controls to reduce security risks and prevent unauthorized access to protected systems.
Detecting: Identifying and understanding cyber security events to develop a strategic and timely incident response.
Responding: Responding to and recovering from cyber security incidents.
The exact steps your IT team takes to implement these may depend on the type of IT infrastructure you're securing, and the regional and industry regulations you have to follow.
However, these foundational approaches should inform how you apply any security solution or strategy, whether you're dealing with software security or systems security in government, healthcare, manufacturing, or any other industry.
Vulnerability management in cyber security
No system or network can be perfectly secure. Cyber threats — and the techniques hackers use to gain access to protected systems — are always evolving. Part of developing a robust approach to cyber security is integrating vulnerability management into your IT planning.
Bad actors are always looking for new exploits and backdoors into business infrastructure and networks. Your business should have a plan in place for how to identify, assess, prioritize, and remediate vulnerabilities and threats.
According to research from Ponemon Institute, security teams already waste up to 25% of their time addressing "false positive" security alerts. Prioritizing, patching, and remediating these vulnerabilities based on the relative risk they pose for your organization ensures that your IT team is making the best use of its resources and tackling the biggest threats first.

Hiring and training staff for people-centric cybersecurity
An effective cybersecurity approach addresses how people, processes, and technology all affect your security risks. An essential part of any IT security strategy is hiring to fill security skill gaps as well as training your entire workforce: here's what your security professionals need to know.
Software and application security
With the rise of cloud-native applications, there's more software integration and communication between organizations than ever. Application security often requires working with developers and operations teams, using penetration testing, development, and coding skills.
Cloud platforms and application programming interfaces (APIs) make it easier to scale application and data services and share information between protected databases, but poorly protected integration points can pose significant security threats and create backdoors into otherwise secure systems.
Network and systems security
Your business also needs IT professionals with system and network expertise. Network security — a subset of broader system security — requires managing and assessing network configurations, implementing automated security policies and controls, and using tools like virtual private networks (VPNs), firewalls, and anti-virus software to keep network traffic secure.
System security specialists often need these skills, as well as experience and training for monitoring critical systems and devices, as well as managing surveillance and threat detection systems.
Physical security and device security
In addition to technical security approaches, you also need security analysts who can help you plan your physical security to limit access to protected devices, servers, routers, and other connected equipment.

Security experts can also help you integrate multi-factor authentication into your access control strategy — requiring users to generate a one-time password from a mobile device that they own and have on their person when accessing secure applications.
The power of having a cybersecurity expert and team
Having a team of cybersecurity experts that understand these areas can help you implement a flexible, modern security approach that keeps your business safe and prevents avoidable data breaches.
Common cyber security positions and skills to fill
Businesses that want to develop a strong security team often look to fill roles like:
Chief information officer (CIO)
Chief security officer (CSO)
Systems and network systems administrators
Cloud and IT security architects
Data privacy officers
Security auditors
Penetration testers
Information security analysts
Cybersecurity software developers or engineers
IT project managers
Governance, compliance, and risk manager
Security auditors and vulnerability assessors
To fill these roles, your business needs to find IT professionals with a mix of technical skills, including systems and network administration, IT operations, software development, project management, compliance and risk management, and more.
Often, professionals that can fill these job responsibilities have a minimum of a bachelor's degree–if not a graduate degree–in programs like Computer Science, Information Science, Cyber Security, Software Engineering, or Systems & Network Administration.
Recruiting, hiring, onboarding, training, and retaining highly skilled cybersecurity professionals can be expensive, especially if they have in-demand skills and knowledge of cyber security, such as penetration testing, incident response planning, or intrusion detection.
Implement cybersecurity essentials with Standley Systems
Standley Systems team has the cybersecurity expertise your business needs to protect your systems, devices, and data from potential breaches. Our security solutions have helped businesses throughout Oklahoma and beyond strategically implement ongoing vulnerability management, incident response, and security planning.
See how we can improve your cyber security with an assessment of your IT infrastructure and security needs — contact us today.