7 min read
Cannata Report dealer tour: How Standley Systems Struck Gold in Oklahoma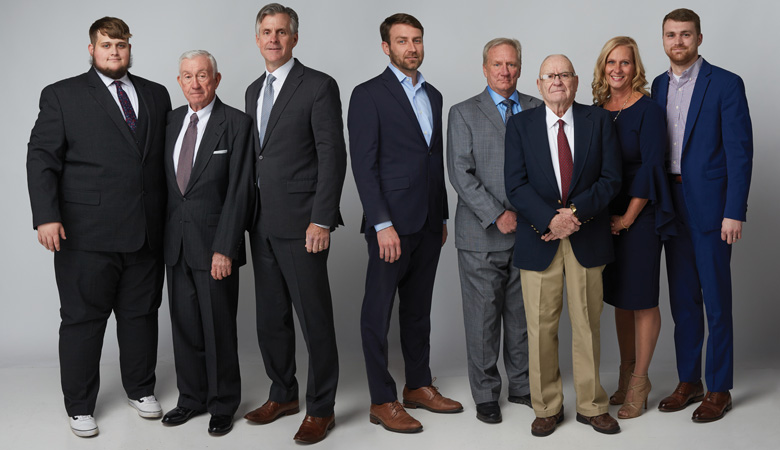 Founded in 1934 as a typewriter company, the dealership is now the premier office technology dealership in the state.
Standley Systems did not begin as a family business, but through circumstance, evolved into one, and is now thriving under the third and fourth generations of the Elliott family.
Standley Systems was founded in 1934 as The Fred Standley Typewriter Company in Chickasha, Oklahoma, selling typewriters and adding machines. After Standley's stepsons Jimmy (the father of Tim Elliott, current chief executive officer, whom Tim described as a "cracker-box salesman who could sell an ice box to an Eskimo") and Don Elliott acquired the company in the late 1960s, it was rebranded as Standley Office Machines, and then in 2000, Standley Systems.
Today, the company positions itself as the premier office technology company in Oklahoma. The company is led by Tim and his cousin Greg Elliott, the dealership's chief operating officer. Both represent the third generation. The fourth generation is represented by Tim's sons Blake, vice president of operations, and Ethan, vice president of information technology. "They are both way smarter than we ever thought about being and are eager to continue to grow our business," said Tim.
Tim worked part-time at the dealership while still in high school, cleaning typewriters. Shortly after graduation in 1976, he joined the business instead of going to college as he originally planned. In 1985, he assumed his current leadership position.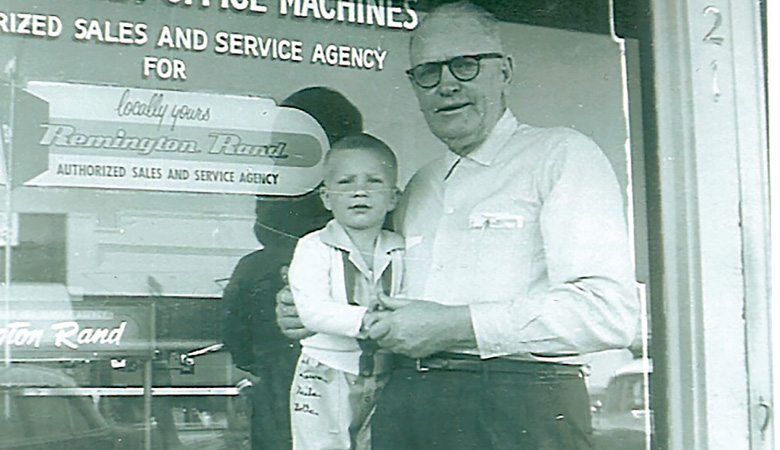 Founder Fred Standley and current CEO Tim Elliott in front of the original storefront in downtown Chickasha, Oklahoma circa 1961.
It wasn't a foregone conclusion that Tim would join the business, even though he acknowledged that everybody in the family bet he would eventually end up there. After his father explained to Tim would be working while attending college and not partying like his friends, college didn't seem so attractive. That was when he decided to join the family business, which at the time, included his father, grandfather, uncle, and grandmother. When he started, the company sold typewriters and adding machines with price tags of $800 to $900. Names like Adler and Remington were the two primary typewriter lines. "I fixed a million of those," recalled Tim.
After the family saw a demo of the Savin 750 plain-paper copier that produced 20 copies per minute at a colleague's typewriter company, things changed dramatically for the Chickasha dealership. It was a tough decision, discussed over several Sunday lunches, but everyone eventually agreed the time was right to sell copiers. Starting with a quota of two machines a month in a territory that encompassed two counties with a total population of 45,000, the dealership sold its first two machines within two weeks.
The 750 was followed by the 770. A year and a half of allotment of seven 770s were sold in four days. Those machines had price tags of $5,495 and cost Standley $2,700. "At the time, our little typewriter company was doing on a good month, $10,000," recalled Tim. "All of a sudden, when you sell two copiers, you're doubling your volume. This was a huge game changer for Standley Systems."
Things haven't been the same since.
Another Turning Point for Standley Systems
A turning point for the company came in 2004 when it won a Department of Human Services (DHS) contract for 1,285 machines. That equipment was installed in 210 locations in 45 days. The contract allowed Standley to expand statewide, opening branches in Tulsa and southeast Oklahoma to accommodate the four-hour service response time customers expected from their copier dealer.
"When we got that DHS contract, we became really focused," said Tim. "It was a three-year contract, but I didn't want there to be a big sucking sound at Standley if it wasn't renewed with people losing jobs because we had to hire several people and expand our operations to do this."
At the time the goal was to cement the dealership in every region where Standley Systems had a presence. "We needed a lot of commercial customers, so we put our focus statewide on selling into commercial accounts and counties," said Tim.
The dealership's reputation for service didn't go unnoticed, and one day, Tim was invited to a meeting with the state of Oklahoma. "I asked them what we were going to talk about, and they said, 'Just come, you'll like it.' And so I went, and they awarded me a single-vendor contract for the entire state of Oklahoma."
But first, they wanted to know if the equipment was available and if Standley could handle all the installations across the state. That was on a Friday at 4 o'clock in the afternoon. They wanted an answer on Monday, and at 4 o'clock on Monday afternoon, Tim returned and told them the equipment was available, Standley could finance it, and do the work. "The financing part was correct, but whether we could do the work or not, it would be a stretch," recalled Tim. "But we've always risen to the occasion of whatever challenge was thrown at us."
Standley Systems did indeed rise to the challenge and still has that state contract. "That brought our company to a new level, and we've been grabbing market share ever since," said Tim.
IT Services and Production Print
An emerging area of focus for Standley has been IT services. That's had its challenges, but there is nothing like learning from one's mistakes. "Where we failed is trying to merge our IT company with our copier company," acknowledged Tim. "People want to talk to somebody now for IT service, they don't want to wait three hours for somebody to show up. We struggled with it but are making headway and starting to make a profit."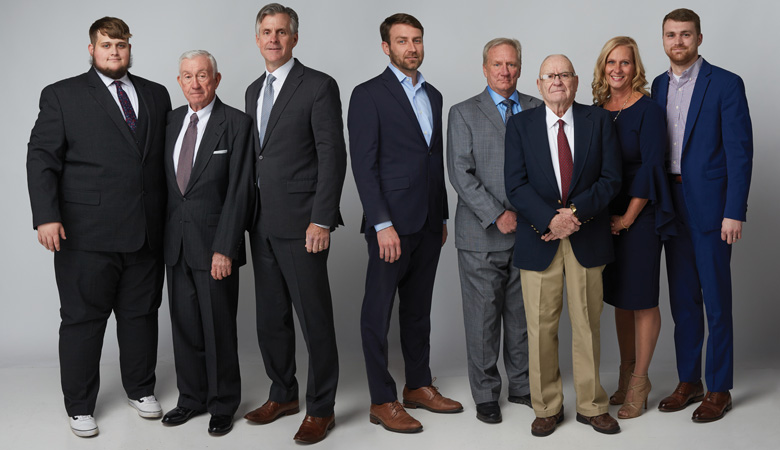 The Elliott family, left to right, Ian Elliott, Don Elliott, Greg Elliott, Blake Elliott, Tim Elliott, Jimmy Elliott, Sherri Kell, and Ethan Elliott.
Tim's son Ethan, who leads that division, has a vision for what the IT business should look like and is working diligently to bring service levels up. "Where we used to have 200 calls waiting to fix their problem, we've got that down to about 20," reported Tim.
A long-time Ricoh dealer, it should come as no surprise that Standley Systems sells the company's production print equipment. Four years ago, it added Xerox. Xerox was courting Standley Systems, but the only way Tim would agree to add Xerox was if it would also let them sell its production print devices. "Believe it or not, they agreed to that, and we sell about 80 production Xeroxes a year," revealed Tim, who added that Standley Systems sells just as many Ricoh production devices.
Growing the Company Through Acquisitions
Since 1989, Standley Systems has made at least nine acquisitions, expanding its footprint across Oklahoma. In 2017, it acquired Ricoh's MIF in Oklahoma, further cementing its statewide domination. On June 1, Standley Systems acquired Verity Group in Dallas, expanding its reach into northern Texas.
The company currently has eight locations across the Oklahoma and 160 employees. The majority of its employees (50), besides service staff, are in Chickasha. The dealership has an IT office and a sales office in downtown Oklahoma City.
"Tulsa and Oklahoma City are our biggest markets, but we stay focused on all the rural areas because we want to offer a unique solution in that we are a true statewide provider based in Oklahoma," said Tim about the dealership's acquisition strategy. "We have a lot of large enterprise accounts where they have offices all over the state. We do a lot of regional banks, savings and loans, and insurance companies. We do probably about 10 out of the 25 universities in Oklahoma. We're always looking for more opportunities to help people save money and become more efficient."
Standley Systems is on budget to achieve its revenue targets for the year. "We're budgeted for $45 million, but I really think we'll hit $50 million this year," said Tim. "We're going to keep on working, knocking on doors, saving people money, and offering them solutions they can use."
A Chickasha Christmas Story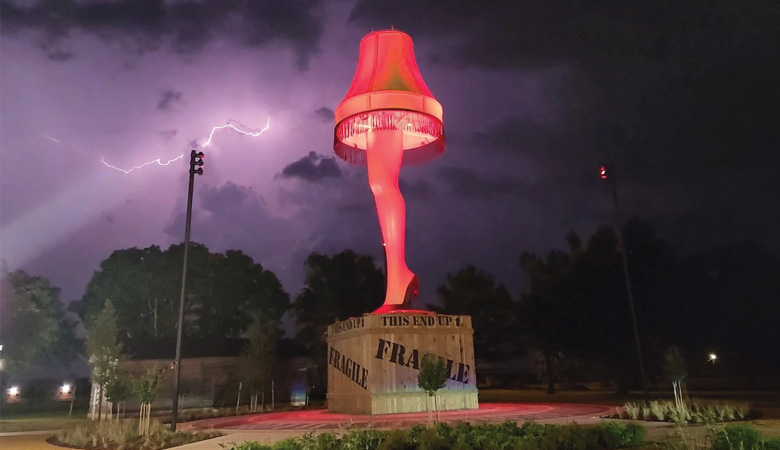 The infamous 50-Foot Leg Lamp from the movie A Christmas Story is Chickasha's prime tourist attraction.
After 51 years in the industry, Tim is still having fun. Some of that fun includes his involvement in the Chickasha community. Anyone who has seen the movie, A Christmas Story, will be familiar with the leg lamp. You can now find the world's largest leg lamp in Chickasha, thanks to Tim, who came up with this off-the-wall idea to encourage people to visit the town.
Chickasha is a town of 15,000 and had been struggling to attract visitors because of its close proximity to Oklahoma City. Tim was inspired during a visit to Winslow, Arizona, when he saw the Glenn Frey statue in "Standin' on the Corner" park that pays tribute to the Eagles guitarist and the band's breakthrough hit, Take it Easy penned by Frey and Jackson Browne ("Well I'm a standin' on the corner of Winslow, Arizona, and such a fine sight to see…"). The statue of Frey with his guitar is a huge tourist attraction.
Tim's vision was a giant leg lamp for Chickasha. After starting with a 40-foot inflatable leg lamp during the 2020 and 2021 Christmas seasons, which attracted visitors from all over the U.S., the community raised $1.4 million to put up a permanent 50-foot leg lamp in 2022. "We've been on 89 TV stations around the country, and someone driving through town from California saw us putting the lampshade on the leg, so he stopped and is now investing $10 million in Chickasha for redeveloping downtown," beamed Tim.
Another $10 million will be invested in the downtown Chickasha leg lamp park. "It's going to be incredible," said Tim.